Incitement
Issues
Palestinians reportedly reinstall monument to Maalot terrorist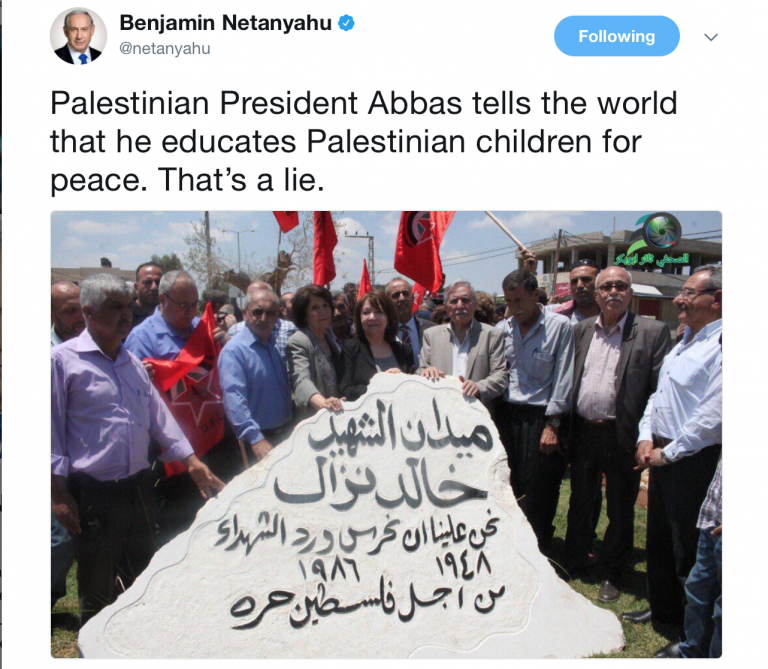 Palestinians in the West Bank city of Jenin have reportedly reinstalled a monument to a terrorist who masterminded a notorious 1974 massacre of Israeli school children, despite intense pressure from Prime Minister Benjamin Netanyahu.
Israel Radio reported Saturday that the monument went back up overnight as part of an agreement between Palestinian Authority President Mahmoud Abbas's Fatah party and the mayor of Jenin.
Last week the Jenin municipality named a square and put up the stone memorial in honor of "martyr" Khaled Nazzal, who planned the 1974 Maalot massacre in which Palestinian terrorists murdered 22 school children and 4 adults.
The move prompted a Twitter outburst from Netanyahu who accused Abbas of lying that he wants peace and "poisoning" the minds of young Palestinians.
"Palestinian President Abbas tells the world that he educates Palestinian children for peace. That's a lie," Netanyahu tweeted.
Palestinian Media Watch reported on the naming of the square Monday, noting that Nazzal, a member of the Democratic Front for Liberation of Palestine, also planned a 1974 abduction in Beit She'an which ended in the killing of four hostages, and a 1984 shooting attack in Jerusalem in which one person was killed and 47 wounded.