US-Israel Relationship
Palestinians paid terrorists $1b in past 4 years, Knesset panel hears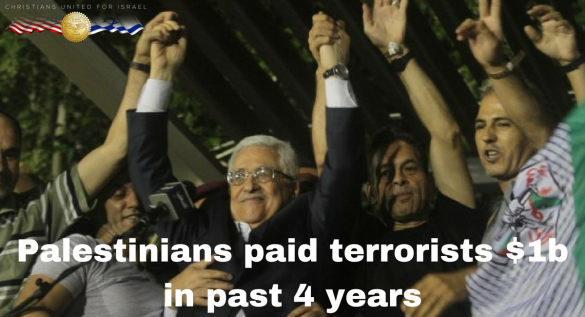 The Palestinian Authority has paid out some NIS 4 billion — or $1.12 billion — over the past four years to terrorists and their families, a former director general of the Ministry of Strategic Affairs and ex-head of the army's intelligence and research division told a top Knesset panel on Monday.
Setting out the figures, Brig.-Gen (res.) Yossi Kuperwasser told the Foreign Affairs and Defense Committee that the longer the period for which a Palestinian security prisoner is jailed, "the higher the salary… Anyone who has sat in prison for more than 30 years gets NIS 12,000 ($3,360) per month," said Kuperwasser, according to the (Hebrew) NRG website. "When they're released, they get a grant and are promised a job at the Palestinian Authority. They get a military rank that's determined according to the number of years they've served in jail."
Kuperwasser also told the committee that PA claims that the payments to terrorists' families are social welfare benefits to the needy are false. The Palestinians' own budgetary documents, he said, "clearly state that these are salaries and not welfare payments."
Kuperwasser was briefing MKs days after US President Donald Trump visited Israel and held talks with PA President Mahmoud Abbas in Bethlehem. In an apparent public upbraiding of Abbas over the payments, Trump told him at their joint press conference: "Peace can never take root in an environment where violence is tolerated, funded or rewarded."
Israel's Channel 2 TV reported on Sunday night that, behind closed doors in Bethlehem, Trump fumed at Abbas for lying to him. "You tricked me in DC! You talked there about your commitment to peace, but the Israelis showed me your involvement in incitement [against Israel]," Trump was said to have shouted at a shocked Abbas.
The TV report said the outburst was followed by several minutes of silence from the Palestinians, and that the meeting was very tense before the two sides managed to get back on track.
Palestinian sources denied the report, saying the meeting was good and to the point. And the Palestinian Ma'an news agency quoted a PA official on Monday accusing Israeli media of "lying" about what went on in the talks in order to torpedo a return to the negotiating table "because the Israelis don't want to achieve peace."
The Israel Hayom daily on Monday quoted an unnamed Palestinian official offering further details of the alleged stormy confrontation, however. This official said the talks "started on a positive note," but the meeting "deteriorated after Trump accused Abbas of supporting incitement and terrorism with the salaries paid to prisoners."