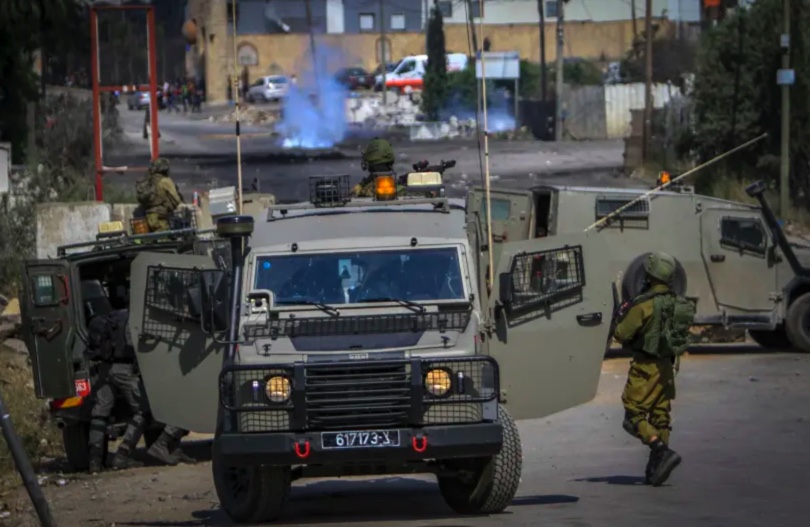 In The News
Palestinians, Israeli forces get in firefight in Nablus
Two Palestinians were arrested by Israeli security forces near the West Bank city of Nablus on Tuesday morning after an hours-long siege on a home.
For several hours, the security forces surrounded the house that the two suspects were in. The suspects were identified by the Border Police as Nabeel Sawalhi and Nihad Owais, who had been involved in several shootings, including in Shavei Shomron last week when a car was hit by bullets.
The Shin Bet, Israel Police's YAMAM unit and IDF troops surrounded the house and used a pressure cooker method, including firing an anti-tank guided missile, to force the men to surrender.
Reports in Hebrew media said that one of the men's fathers arrived at the scene and urged his son to turn himself in. Shortly after that, the men surrendered and were taken for interrogation by the Shin Bet. IDF troops searched the home and seized an M-16 rifle, a pistol, ammunition, pipe bombs and grenades.
"We have proven once again that there are no cities of refuge for terrorists in Judea and Samaria," said the Commander of the Samaria Regional Brigade, Col. Roi Zweig. "The operation ended with the two wanted men in our hands.  The IDF and the security forces will continue to act wherever and whenever necessary against wanted men who seek to harm us."
Read More: The Jerusalem Post