Hamas
Palestinians fly swastika kite with petrol bomb across Gaza border into Israel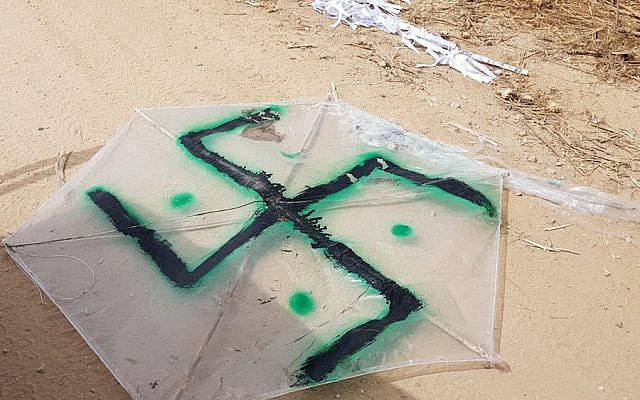 Palestinians at the Gaza border flew a kite marked with a swastika and carrying a petrol bomb into Israel on Friday.
The Israeli army posted photographs of the kite in the air and on the ground inside Israel.
An IDF spokesman, Jonathan Conricus, wrote: "Moments ago, terrorist Hamas sent a Molotov cocktail over the Gaza border into Israel. They flew it with their true colors."
Friday marked the fourth weekend in succession that thousands of Palestinians have demonstrated at the border, in mass protests encouraged by the Gaza Strip's Hamas rulers. Originally declared as non-violent "March of Return" protests, the demonstrations are being encouraged by Hamas, which seeks to destroy Israel, and whose leaders say the goal of the protests is to erase the border and liberate Palestine.
The Israeli army says it has faced "terror" at the fence during the weekly protests, including a shooting incident, numerous efforts to breach the fence, stone- and bomb-throwing. In recent days, Gazans have flown kites carrying petrol bombs across the border, and these have caused fires several times in Israeli fields close to the border.
On Tuesday, one such kite started a fire in a grassy grove outside Kibbutz Be'eri, an Israeli community located some seven kilometers (4.3 miles) east of Gaza's Bureij refugee camp. It took four teams of firefighters to bring the blaze under control, a spokesman for the local fire department said. The Kan news broadcaster reported that the fire had spread over almost 100 dunams (25 acres).
Gazans filmed the kite crossing the border and starting the blaze, in a video shared on social media.
The kites seem to be the latest phase in the ongoing clashes on the Gaza border, as Palestinians have rioted and protested along the security fence almost daily since March 30.
Fridays have been by far the most active days, with over 40,000 people taking part in the first protest, nearly 30,000 taking part in the second and approximately 10,000 participating in the third and most recent, according to the IDF's figures. As of late afternoon, Friday's fourth protests involved some 3,000 people.
Read More: Times of Israel