Hamas
Palestinian youths set Gaza's own gas line on fire at weekly fence protests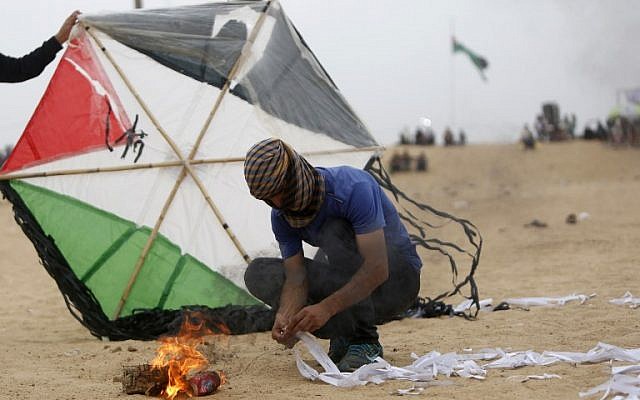 Dozens of Palestinians broke into the Gaza side of the Kerem Shalom border crossing between Israel and the Hamas-run Strip on Friday evening, setting fire to the gas pipeline that supplies fuel to the Strip, the army said.
The Gazans, who did not break through to the Israeli side of the border, trashed their own supply infrastructure, Israeli military officials said.
The incident came amid the protests along the Gaza border, the sixth week of demonstrations, as part of the "March of Return." At least  431 Palestinians were injured, Gaza officials said, as some 7,000 took part in the demonstrations, flew dozens of kites with petrol bombs into Israel, hurled stones at soldiers and tried to breach the border fence.
The IDF shared video of the Kerem Shalom incident, during which Palestinians broke into the Palestinian side of the crossing and damaged pipelines carrying gas and oil into Gaza, which already suffers from a large energy shortage.
"This is a cynical act that harms the welfare of Gaza residents and the humanitarian efforts carried out by Israel and many other countries," the army said.
Kerem Shalom is the main crossing for goods and humanitarian aid to pass into Strip from Israel.
Elsewhere, there were two mass attempts to damage and breach the security fence around the central Gaza Strip during the protests, the army said.
Israeli soldiers who were called to the scene of those attempts forced back the demonstrators using less-lethal riot dispersal weapons and live fire.
"Two attempts by a group of rioters to damage the fence and cross into Israeli territory from the central [Gaza] Strip were thwarted a short while ago," the army said on Friday evening.
In total, 431 Palestinians were injured during the protests, including some 70 from live fire, the Hamas-run Gaza healthy ministry said.
There were no Palestinian deaths reported as of Friday evening, unlike in previous weeks. The IDF does not confirm Palestinian casualty figures, but it put the number of protesters at 7,000.
Read More: Times of Israel