Palestinian Authority
Palestinian sheikh says 'army of Islam' will set out from Jerusalem to conquer to world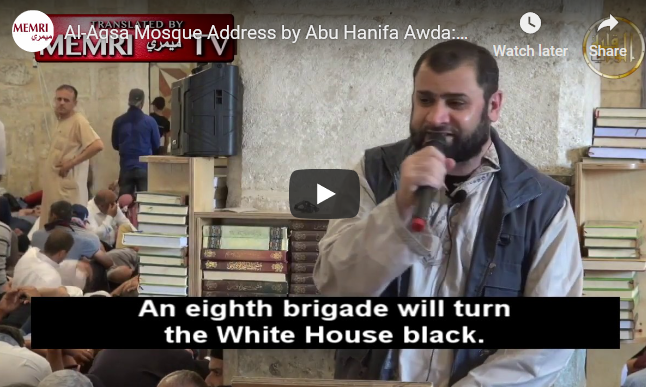 (June 12, 2019 / MEMRI) A Palestinian sheikh said during an address at the Al-Aqsa mosque uploaded to the internet in June that Jerusalem is the "heartland" where the banners of the caliphate will flutter, where military convoys and brigades will assemble, and where policies will be designed to herald the "dawn of justice" and the birth of the Islamic Caliphate.
Sheikh Abu Hanifa Awda said that the "army of Islam" would set forth from Jerusalem to conquer to world.
Sheikh Abu Hanifa Awda: "Indeed, oh people of Jerusalem, this is the heartland. This is the land of the oath of allegiance. This is where the banners of the Caliphate will flutter. This is where the military convoys will gather, and this is where the brigades will assemble under their banners, heralding in a new dawn—dawn of justice—and the birth of a divine state: the Caliphate that will follow the guidance of the Prophethood. Policies will be designed here. From here, armies will set out to conquer the world—the mighty army of Islam, with all its brigades.
Read More: Jewish News Syndicate