Hamas
Palestinian groups praise car-ramming attack that kills two soldiers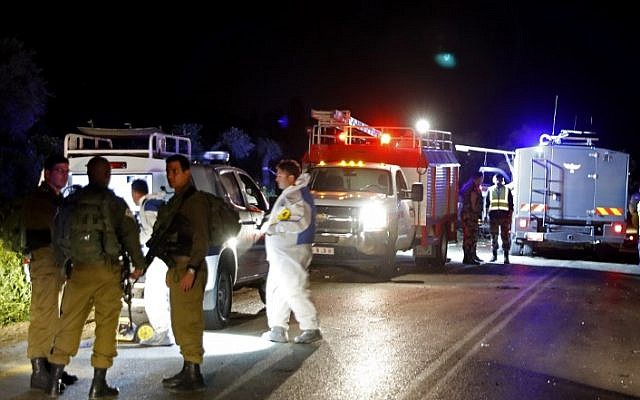 Several Palestinian groups and activists on Friday praised the "heroic" car-ramming attack in which two IDF solders were killed near Jenin, saying it was an "appropriate" response to US President Donald Trump's decision to recognize Jerusalem as the capital of Israel.
While no group claimed direct responsibility for the terror attack, it came after Palestinian groups had called for Friday to be a "day of rage," in response to Trump's December decision.
Get The Times of Israel's Daily Edition by email and never miss our top stories Free Sign Up
The Hamas terror group was the first to "welcome" the attack.
"This heroic and courageous operation underscores our people's insistence on pursuing the path of resistance," read a terse statement published by Hamas in the Gaza Strip.
Abdel Latif al-Qanua, a Hamas spokesperson, said that the "heroic operation underlines the vitality and continuity of the intifada, and our people's rejection of the US decision on Jerusalem."
Another Hamas spokesperson, Sami Abu Zuhri, said that the attack was a "message" to those who have been calling on his terror group to lay down its weapons.
"This is a message to the effect that the weapons of the resistance are the uppermost," he added. "It is also a message to the effect that there is no future for those who conduct security cooperation," he said, referring to the cooperation between the Palestinian Authority forces in the West Bank and the IDF.
During ongoing reconciliation talks between Hamas and PA President Mahmoud Abas' Fatah group, a key demand has been for Hamas to hand it's weapons over to the control of the PA, a move Hamas has firmly rejected.
The Palestinian Islamic Jihad terror group said the attack was a response to  "Zionist terrorism." The group called on Palestinians to carry out more attacks to "foil the Zionist-American plot to obliterate the Palestinian cause."
Talal Abu Zarifeh, a senior representative of the Democratic Front for the Liberation of Palestine, one of several PLO terror factions, said that the car-ramming attack was a "natural response to Israeli crimes" and a sign that the uprising was continuing.
The Popular Front for the Liberation of Palestine, another PLO terror group, said that the attack had "trampled Trump's decision on Jerusalem – 100 days since he announced it." The attack proves that the Palestinians are alert and prepared to thwart this decision and any other scheme targeting our cause and existence," the group added.
On Twitter, Palestinians launched a hashtag called "The Jenin Operation," where they heaped praise on the attacker, identified as Ala Qabha, 26.
Some Palestinians also said they believed the attack came to avenge the killing of Ahmed Jarrar, the Hamas terrorist who killed Rabbi Raziel Shevach in the northern West Bank earlier this year. Jarrar, a resident of Jenin, was killed by IDF troops in early February.
The Palestinian Authority had not commented on the attack.
Read More: Times of Israel