US-Israel Relationship
PA payments to prisoners, 'martyr' families now equal half its foreign aid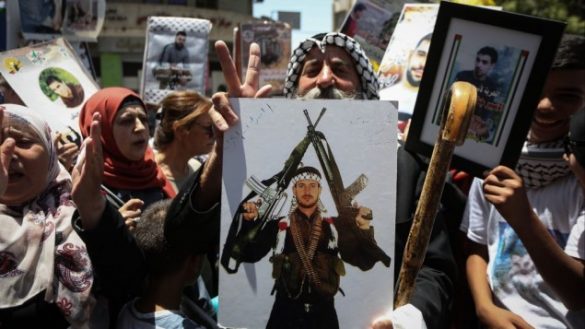 The Palestinian Authority's 2017 budget for payments to inmates in Israeli prisons and so-called "families of martyrs" is equal in sum to about half of the foreign aid Ramallah expects to receive this year, a recently published Israeli report shows.
According to the PA Finance Ministry's 2017 budget, published on its website earlier in July, salaries to incarcerated and released Palestinian prisoners, many of whom are convicted terrorists, will amount in 2017 to NIS 552 million ($153.4 million).
That is an increase of 13 percent over the 2016 budget, according to a report published by the Jerusalem Center for Public Affairs think tank on July 24.
The new budget also allocates $190,869,166 for payments to so-called "families of martyrs," up from $174,630,296 allocated in 2016.
The families are defined as those with members who were "killed or wounded in the struggle against Zionism," including those killed while committing attacks against Israelis, or in any other context by an Israeli.
The total allocation to Palestinian prisoners and ex-prisoners, as well as martyrs' families, in the 2017 budget is NIS 1,239,528,424 ($344,313,451).
This sum is equal to 49.6 percent of the foreign aid Ramallah expects to receive over the year.
Table shows how much the Palestinian Authority has allocated for payments to Palestinian prisoners in Israeli jails and 'martyr' families since 2013. (Jerusalem Center for Public Affairs)
The author of the report, Brig.-Gen. (res) Yossi Kuperwasser, a formerly director general of the Israeli Strategic Affairs Ministry and head of the Research Division of IDF Military Intelligence, told The Times of Israel the rising budget allocation for the payments is not due to any new policy, but rather reflects natural growth under PA laws already in place.
According to the 2017 budget, the total number of "martyrs' families" and families with injured members to receive payments is 21,500. In 2016 that number was 19,000.
Read More: Times of Israel