Incitement
PA lifts 'disguise' on 'martyr' payments, defying Taylor Force Act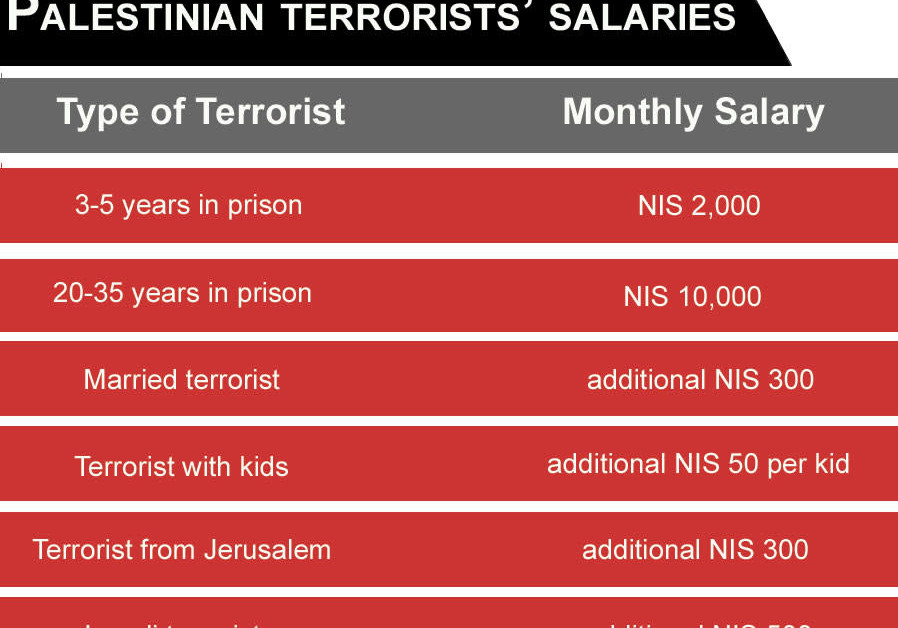 After three years of disguising its payments to families of martyrs and imprisoned terrorists, the Palestinian Authority has lifted its veil on those payments in a "blatant act of defiance" against the United States, a new report says.
The report by the Meir Amit Intelligence and Terrorism Information Center, obtained by The Jerusalem Post prior to its being posted online, argues that the PA 's removal of its disguise on payments is its response to the Taylor Force Act.
The legislation, recently passed by the US Congress, stipulates that portions of US aid to the PA will be cut back until it stops paying stipends to terrorists in Israeli prisons, released terrorists and the families of shahids, the Arabic word for martyrs – terrorists who die while carrying out violent acts.
Since May 29, 2014, the amount allocated to the Commission of Detainees and Ex-Detainees Affairs was removed from the PA budget "in an attempt to disguise the fact that it is the PA that finances the payments to imprisoned and released terrorists," the report says.
"This institution was made subordinate to the PLO in order to mislead the donor countries."
Now, the intelligence center says, the amount earmarked for the commission is again being openly included in the PA 's budget. In the 2018 budget, the Commission of Detainees and Ex-Detainees Affairs is listed as "Item 46."
According to the report, the commission has been allocated around $165 million. It is headed by PA cabinet minister Issa Karake, who, according to the report, was previously imprisoned in Israel for terrorist activities.
The center is convinced that this item is a clear basis for applying sanctions against the PA . It says the PA returned the item to the budget after disguising it for years as a message to the US that it will maintain these payments no matter the consequences.
More broadly, the report states that the PA's 2018 budget allocates around $360 million, or approximately 7% of the approximately $5 billion budget, to two institutions that disburse payments to imprisoned terrorists, released terrorists and the families of dead terrorists.
Read More: J Post