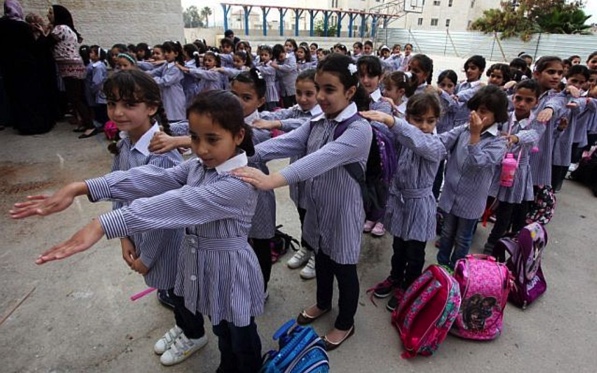 In The News
PA holds event for high schoolers urging support for convicted terrorists
Palestinian Authority education officials in the West Bank governorate of Tulkarem last week held an event for high school girls supporting Palestinian security prisoners in Israeli jails, including some who masterminded deadly terror attacks against Israelis.
Local politicians turned out at the Adawiya Girls High School in the city to found a garden in honor of Palestinian prisoners. Teenage girls were given posters to express their support for the jailed Palestinians.
Many of the Palestinians in question were convicted of deadly attacks. One of the teenage girls photographed with the officials held a poster in support of convicted Palestinian terrorist Abbas Al-Sayed, who is serving 35 life sentences in Israeli prison for his role in plotting attacks against Israelis.
Al-Sayed is particularly notorious for helping to plot the 2002 Netanya Park Hotel suicide bombing that left 30 civilians dead and 140 wounded. The attack was one of the bloodiest in the Second Intifada.
"Because you are free — support their freedom," the poster read, next to a stylized drawing of Al-Sayed.
Read More: Times of Israel