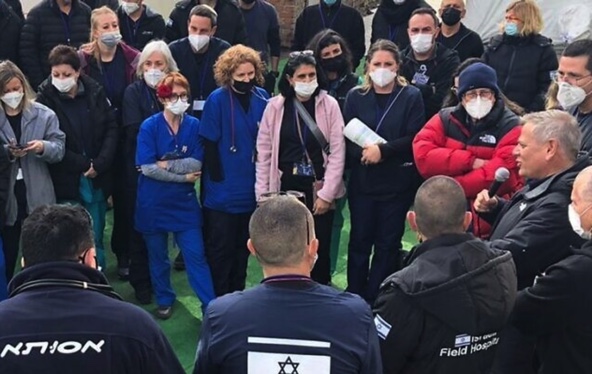 In The News
On visit to Israeli field hospital in Ukraine, Horowitz blasts Russian 'war crimes'
Health Minister Nitzan Horowitz on Monday visited the Israeli field hospital in western Ukraine, becoming the first cabinet member to enter the war-torn country since the start of the Russian invasion.
Horowitz thanked medical staff at the Kochav Meir hospital in Mostyska, about 50 kilometers (30 miles) west of Lviv, for their "holy work" treating more than 2,000 women and children thus far, according to a statement from his office.
"Israel is the only country that has established such a facility within Ukraine. This is the real face of the Israeli health system," he said.
He added that his visit sends a message of Israel's "solidarity with Ukraine in the face of a brutal Russian invasion and in the face of the massacres and war crimes that are being uncovered these days across the country."
Horowitz was apparently referring to the scenes that came out of Bucha over the weekend, after Russian forces retreated and Ukrainian authorities and journalists say they found scores of bodies in streets and evidence of mass graves, leading to charges of genocide.
Read More: Times of Israel