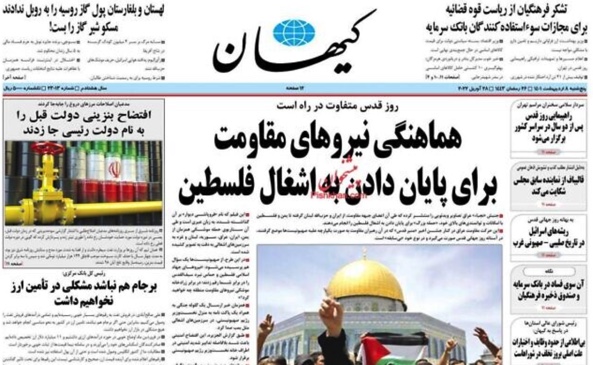 In The News
On Holocaust Remembrance Day, Iran paper publishes antisemitic piece praising Hitler
As Israel marked its national Holocaust Remembrance Day Thursday, a major Iranian paper newspaper published an opinion piece including antisemitic tropes and overt praise of Adolf Hitler.
On Friday, the Islamic Republic of Iran will mark Quds Day, a day of solidarity with the Palestinian cause initiated by Iran's Ayatollah Khomeini in 1979 – the year of the Islamic Revolution. The national holiday is characterized by anti-Israel speeches and events and threats to "liberate" Jerusalem from Israeli control.
Corresponding with this year's Holocaust Remembrance Day marked in Israel, the state-run ultraconservative Iranian daily newspaper Kayhan ran a front-page opinion piece that openly praised Nazi leader Hitler.
The editor-in-chief of Kayhan is Hossein Shariatmadari, who has been referred to as a representative of the Supreme Leader of Iran.
Authored by a scholar identified as Mohammad Hadi Sahraei and titled "Maybe Without War," the piece opened by noting the biblical story of the Sin of the Golden Calf at Mount Sinai, a version of which is mentioned in the Quran. Sahraei used the Quran account of the story to establish his claims of Jews being "a people who are known for their stubbornness, objections and excuses."
Read More: Times of Israel