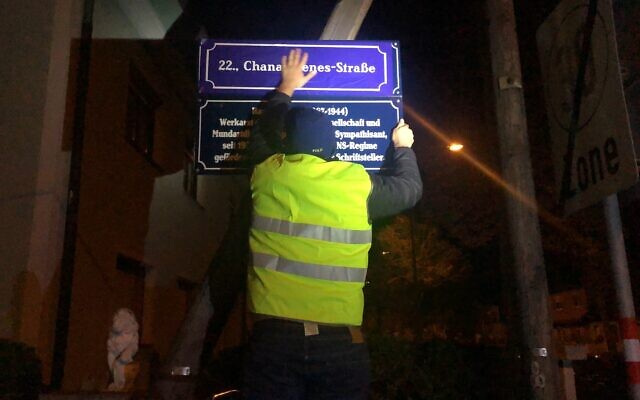 In The News
On eve of Kristallnacht, activists 'rename' Vienna streets honoring antisemites
Activists "renamed" some 23 streets in Vienna overnight Monday-Tuesday which they said honor antisemites, former members of Hitler's Nazi party, and even soldiers and officers in the SS and SA paramilitary groups known for their participation in the Holocaust.
The protest was timed to coincide with the anniversary of the Kristallnacht pogroms on November 9 and 10, and involved roughly 20 activists, a source told The Times of Israel.
The activists plastered over the current nameplates with new signage honoring Jewish and non-Jewish heroes who fought to save Jewish lives during the Holocaust and opposed the Nazi regime, such as Hungarian-born British operative Hannah Senesh and partisan leader Abba Kovner. Half of the new signs honored women in the resistance.
A video clip showing people on ladders placing replica street sign stickers over the existing signs was posted Tuesday morning on the Twitter page of the Austrian Union of Jewish Students, along with "before and after" photos of a number of individually renamed street signs. No group took responsibility for the renaming of the signs.
Read More: Times of Israel