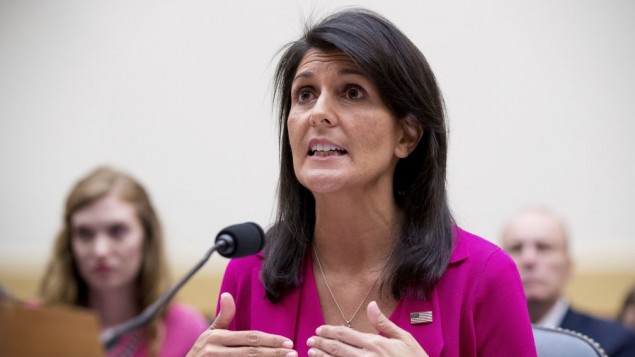 Iran
Nikki Haley: Iran can't use nuclear deal to hold world hostage
UNITED NATIONS — US Ambassador Nikki Haley says Iran should not be allowed "to use the nuclear deal to hold the world hostage."
Haley commented Tuesday after Iranian President Hassan Rouhani warned that the landmark 2015 nuclear agreement with the US and five other world powers could fall apart. Rouhani said Tehran could quickly ramp up and advance its nuclear program if the US continues "threats and sanctions" against Iran.
Haley warned that "the nuclear deal must not become 'too big to fail.'" She added that "Iran, under no circumstances, can ever be allowed to have nuclear weapons."
Haley said Iran must be held responsible for launching missiles, supporting terrorism, disregarding human rights and violating UN Security Council resolutions.
She plans to visit the UN nuclear agency in Vienna next week.
Earlier Tuesday, Rouhani said Iran could abandon its the nuclear deal with world powers if the United States keeps on imposing new sanctions.
In a speech to parliament, he also hit out at US counterpart Donald Trump saying that he had shown the world that Washington was "not a good partner."
Rouhani's comments came with the nuclear deal under mounting pressure after Tehran carried out missile tests and strikes, and Washington imposed new sanctions — with each accusing the other of violating the spirit of the agreement.
Read More: Times of Israel