Talking Points
NGO Monitor: U.S., U.K., Netherlands fund anti-Israel 'Christ at the Checkpoint' conference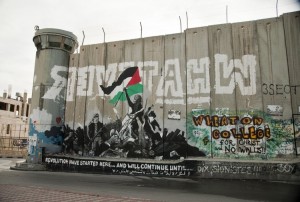 The U.S., U.K., and Dutch governments are helping to fund a conference called "Christ at the Checkpoint," which attempts to sway Evangelical Christian opinion against Israel and whose themes have anti-Semitic undertones, according to a new report issued by the Jerusalem-based watchdog group NGO Monitor.
The report titled "Christ at the Checkpoint: How the U.S., U.K. and Dutch Governments Enable Religious Strife and Foment Mideast Conflict," first obtained by JNS.org, examines how the American and European governments are directly and indirectly funding the conference.
"Direct and indirect funding to the organizers of Christ at the Checkpoint is mystifying and deeply concerning to us," said Yitzhak Santis, Chief Programs Officer and "BDS in the Pews" Project Director at NGO Monitor.
Christ at the Checkpoint (CATC) is a biennial event held in Bethlehem, organized by the Bethlehem Bible College and the Holy Land Trust. First launched in 2010, the conference was again held in 2012, and another conference is being held from March 10-14, 2014. The stated goal of CATC is "To challenge Evangelicals to take responsibility to help resolve the conflicts in Israel-Palestine by engaging with the teaching of Jesus on the Kingdom of God," according to the conference website. Read more.