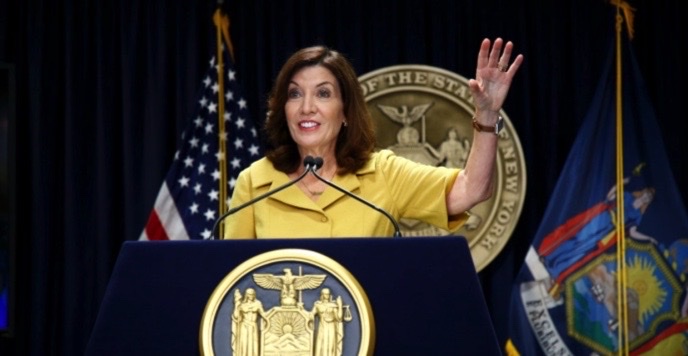 In The News
New York's Governor Hochul Signs Legislation Improving Holocaust Education and Support for Survivors
New York Governor Kathy Hochul, a Democrat, has signed legislation improving Holocaust education and support for survivors.
On Wednesday, three bills were made state law during a signing ceremony attended by state lawmakers and Jewish advocacy groups.
"As New Yorkers, we are united in our solemn commitment to Holocaust survivors. We will never forget," Hochul said during her remarks.
One of the bills, Senate Bill S121B, tasks the New York State Education Department with assessing whether schools are meeting standards on Holocaust education established by previous legislation passed in 1994. Another, Senate Bill 117A, mandates that museums label pieces of art stolen from Jewish families during the Holocaust with a notice explaining their provenance.
Read More: The Algemeiner