Anti Semitism
New York Times acknowledges publishing cartoon with 'anti-Semitic tropes'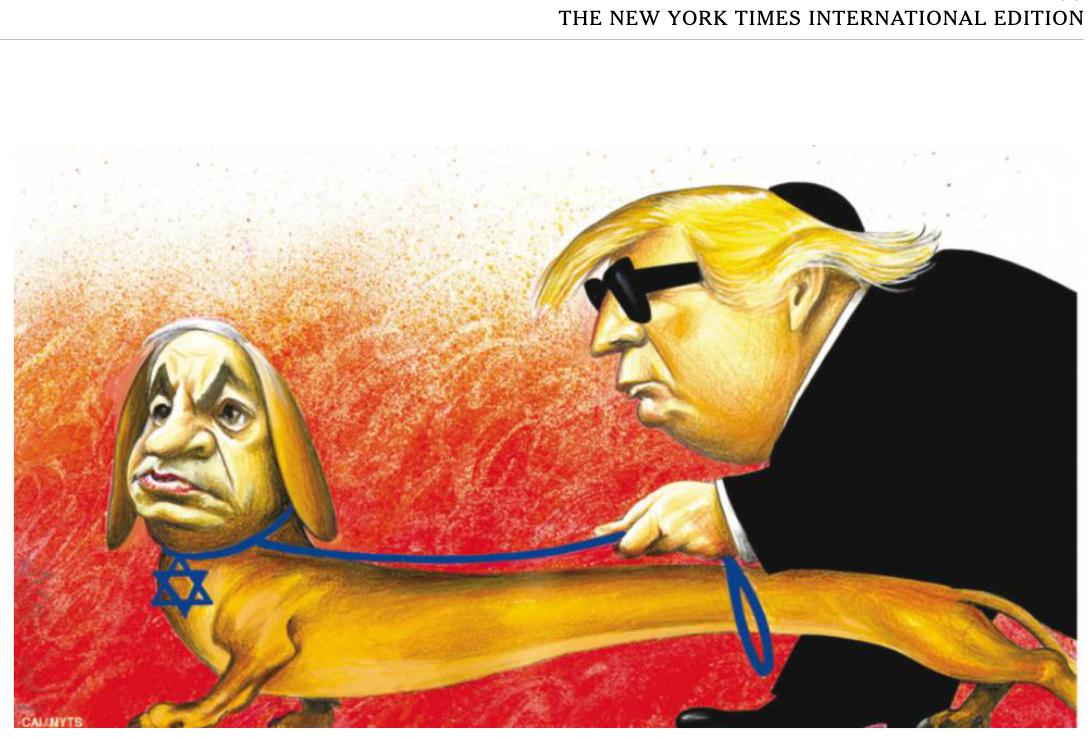 (JTA) — The New York Times acknowledged that it published in its international print edition a political cartoon that "included anti-Semitic tropes."
The cartoon showed Israeli Prime Minister Benjamin Netanyahu as a guide dog (a dachshund) wearing a Star of David collar and leading President Donald Trump, who is wearing a black kippah.
"The image was offensive and it was an error of judgment to publish it," read an editor's note posted Saturday on Twitter that also will appear in Monday's international print edition. The note said that the cartoon was provided by The New York Times News Service and Syndicate, which has since deleted it.
"This just as easily could have appeared in neo-Nazi or ISIS propaganda," CNN's Jake Tapper tweeted.
The cartoon appeared in the Opinion section of Thursday's issue next to a column by Thomas Friedman about immigration.
Haaretz writer Anshel Pfeffer tweeted: "The NY Times cartoon of Netanyahu as guide-dog for blind Trump would also have been a harsh but fair depiction of their relationship. But the moment Trump has a kippah and Netanyahu a Star of David, it veered sharply in to antisemitic territory. Truly incredible it was published."
He added: "The irony is that Trump is a racist and has repeatedly made borderline antisemitic remarks and Netanyahu will excuse any antisemite as long as they are right-wing and support his policies. There are a 1000 ways of criticizing and lampooning their toxic relationship. Not like this."
Read More: Jewish Telegraphic Agency