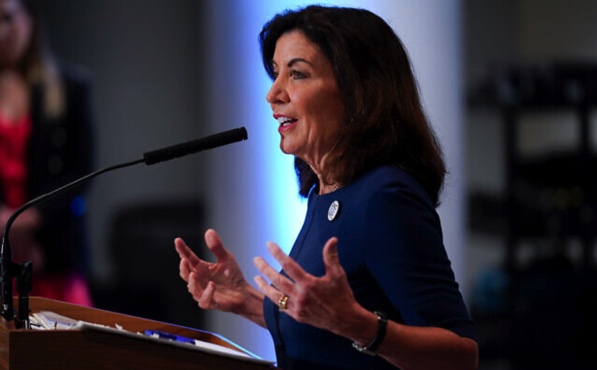 In The News
New York governor announces trip to Israel, funding for Israeli startup
New York State Governor Kathy Hochul on Monday announced an upcoming trip to Israel and a state investment in an Israeli startup.
"I'm not going to announce any dates, but I'm coming," she said, calling Israel "a unique place that is like no other on this planet."
"I believe that Israel is extraordinary," she said, "but also the opportunities that I see as governor are extraordinary."
The trip will be Hochul's first to Israel as governor. She planned a previous visit while serving as lieutenant governor, but canceled it after taking office last year when her predecessor, Andrew Cuomo, stepped down amid sexual harassment allegations.
Hochul made the statement at a Jerusalem Post conference in New York City alongside Jerusalem Mayor Moshe Lion and Israel's Consul General to New York Asaf Zamir. Defense Minister Benny Gantz, Communication Minister Yoaz Hendel and President of the World Jewish Congress Ron Lauder also spoke at the event.
Read More: Times of Israel