US-Israel Relationship
New US ambassador David Friedman arrives in Israel, prays for Trump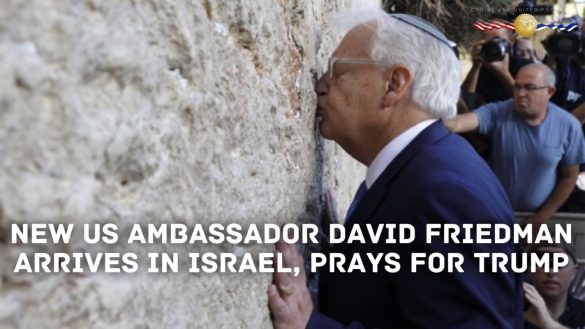 The new US ambassador to Israel, David Friedman, arrived in the country on Monday to take up his position amid a swirling debate over whether the embassy should be moved from Tel Aviv to Jerusalem.
Immediately after arriving, Friedman traveled to Jerusalem, where he went to the Western Wall and offered a prayer for US President Donald Trump
"Well, it was a long trip. We're a bit tired, but we wanted to come straight to the holiest place in the entire Jewish world, the 'Kotel Hamaaravi,' the Western Wall, so we straight came here," Friedman said in a filmed statement provided by the US Embassy, flanked by his wife Tammy and his daughter Talia.
Read More: Times Of Israel