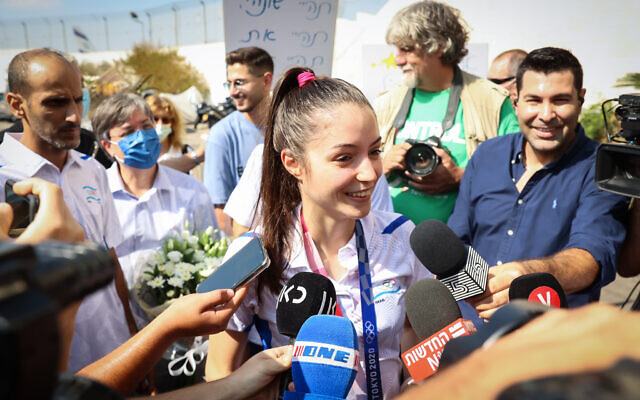 New Olympic medalist Semberg gets hero's welcome upon return to Israel
Israel's only medalist so far in the Tokyo Olympics, taekwondo athlete Avishag Semberg, returned to Israel on Tuesday to a hero's welcome at Ben Gurion Airport and in her hometown of Gedera, sending a message to girls and boys that "anything is possible."
Semberg, 19, who had not been considered a medal favorite ahead of the contest, won the bronze medal on Saturday in the women's -49kg category and netted Israel its 10th medal in Olympic history, and its first-ever in the field of taekwondo.
Semberg embraced her partner, fellow taekwondo athlete Nimrod Kravitsky, who was waiting for her with flowers.
Her friends welcomed her by pouring water on her, before she spoke to the press.
"An amazing, crazy feeling," she said. "I've been dreaming about this my whole life, many sleepless nights — my longest sleep was now on the plane — but I have no problem not sleeping to reach these moments."
Read More: Times of Israel