Hamas
Netanyahu warns terror groups: Don't even think about it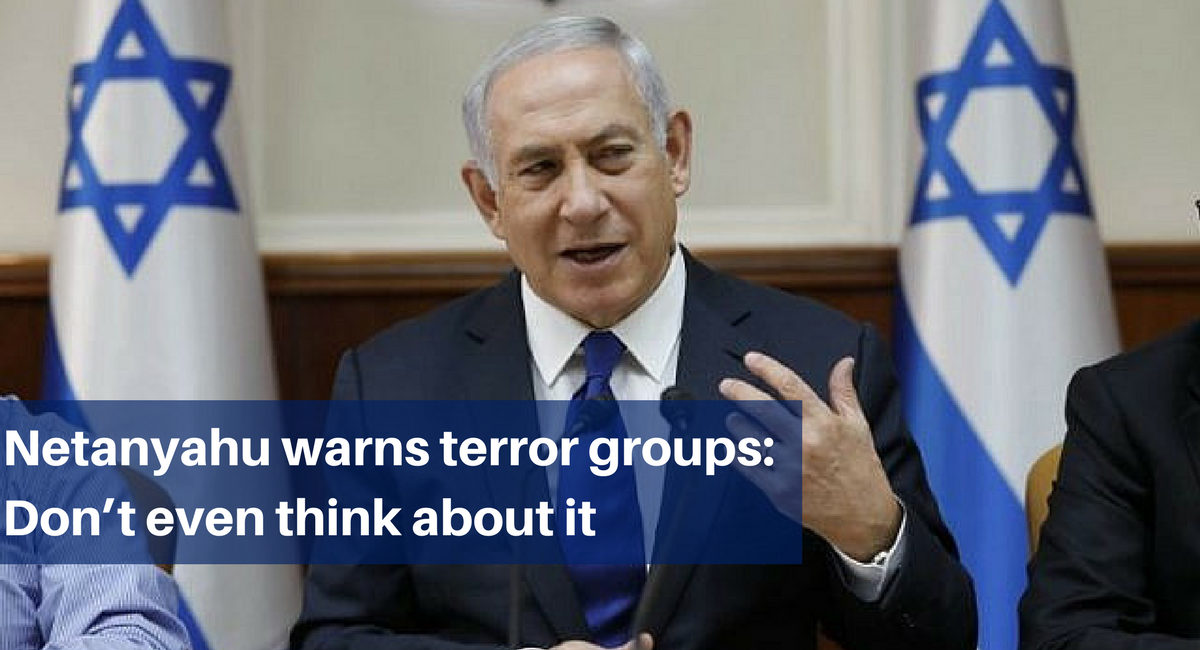 Prime Minister Benjamin Netanyahu warned on Sunday that the country would respond harshly to any attack against it no matter where it comes from.
Netanyahu's comments appeared to be prompted by blustery statements from the Palestinian Islamic Jihad group in Gaza, which is threatening Israel with retaliation for the destruction of a terror tunnel it dug under the border into Israel, but they also came amid increasing tension on Israel's northern borders.
"These days, there are still those who toy with trying renewed attacks on Israel," Netanyahu said at the start of the weekly cabinet meeting. "We will take a very strong hand against anyone who tries to attack us or attacks us from any sector."
"I say this to every entity, rogue faction, organization — every one. In any case, we see Hamas as responsible for every attack that emanates from, or is planned against us in, the Gaza Strip," he said.
The Hamas terror organization seized control of Gaza in a 2007 coup, taking over the coastal enclave from the Palestinian Authority.
Islamic Jihad said earlier Sunday it would not back down on its "right" to retaliate against Israel for the tunnel explosion, which led to the death of 12 terror group members — 10 from Islamic Jihad, including two commanders, and two members of Hamas's military wing.
The "threats to target the movement's leadership is a declaration of war, which we will confront," Islamic Jihad said, according to a statement carried by its media affiliate Palestine Today News Agency. "We reaffirm our right to respond to any aggression, including our right to respond to the crime of aggression on the resistance tunnel."
On Saturday, Maj. Gen. Yoav Mordechai, who runs the Defense Ministry's chief liaison office with the Palestinians, publicly warned Islamic Jihad not to try to retaliate for the tunnel destruction.
Mordechai, speaking in a video posted to YouTube, addressed by name the terror group's leader, Ramadan Shalah, and his deputy, Ziad Nakhaleh, who run the Gaza-based group from Damascus, and said they would be "held responsible" should Islamic Jihad attack Israel.
On October 30, the Israel Defense Forces blew up a tunnel that originated in the Gazan city of Khan Younis and crossed into Israeli territory, near Kibbutz Kissufim.
According to the army, the tunnel had been under surveillance the entire time that it was inside Israeli territory and did not pose a threat to civilians.
The army said later that killing the terrorists was not the primary objective of the tunnel demolition.
The bodies of five terrorists who were working on the tunnel inside Israeli territory were recovered by the IDF, the army said.
According to Palestinian media, Hamas encouraged Islamic Jihad to abstain from retaliating, both in order to prevent further escalation with Israel and to prevent the reconciliation talks it has been conducting with the Palestinian Authority from falling apart.
Read More: Times of Israel