Issues
US-Israel Relationship
Netanyahu says Israel 'shoulder to shoulder' with US after attack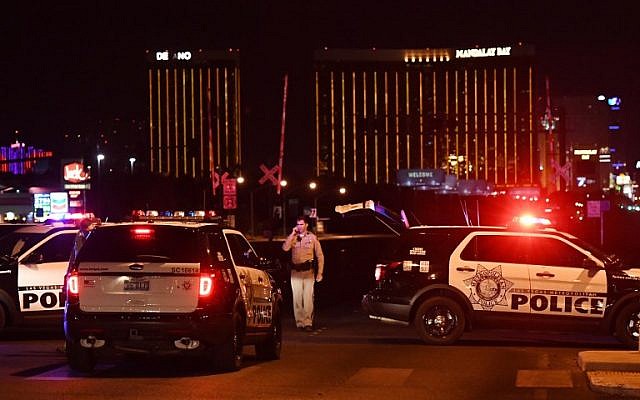 Prime Minister Benjamin Netanyahu said Monday that Israel stands "shoulder to shoulder" with the US "in mourning and sorrow," after a deadly mass shooting during which at least 58 people were killed and over 500 were injured in Las Vegas.
"On this terrible day, the people of Israel stand shoulder to shoulder with the American people in mourning and sorrow," Netanyahu, who is also foreign minister, wrote on his Twitter account.
"Our hearts go out to the victims' families and we wish a speedy recovery to the wounded. We grieve with you."
Gunman Stephen Paddock opened fire late Sunday from his 32nd-story hotel room at the Route 91 Harvest Festival, spraying hundreds of rounds at attendees of the country music festival. Paddock was found dead when police reached his room, following what officials described as the deadliest-ever mass shooting in US history.
President Reuven Rivlin sent a message to US President Donald Trump offering his condolences.
"The people of Israel join me in sending our deepest sympathy to you, to the participants in the festival, the people of Las Vegas and to all the people of the United States following this shocking attack which took the lives of so many innocent people and injured so very many more," Rivlin wrote, according to his office. "We stand with you as you mourn the terrible loss of life and injury following this senseless attack on people who had merely gathered together to listen to music."
Israeli politicians also lined up on Twitter to condemn the shooting and offer well-wishes to the injured along with condolences to the families of the victims.
Deputy Foreign Minister Tzipi Hotovely wrote "Israel grieves with the American people over the senseless loss of innocent life in the horrific massacre in Las Vegas."
Israeli officials said eight Israelis were unaccounted for and the consul-general in Los Angeles had traveled to Las Vegas to help locate them.
Addressing his US counterpart Paul Ryan, Knesset Speaker Yuli Edelstein offered his "deepest condolences on the Las Vegas tragedy. We stand with you and the American people at this difficult hour."
Read More: Times of Israel