Iran
Netanyahu says Iran 'brazenly lying' after signing nuclear deal, moved documents to a secret location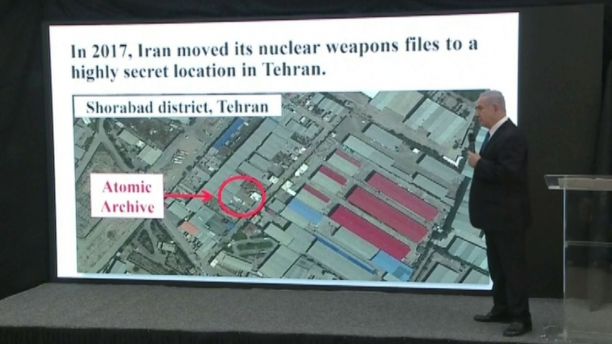 Israeli prime minister claims Iran had been hiding all of the elements of a secret nuclear weapons program.
Israeli Prime Minister Benjamin Netanyahu revealed new "dramatic" intelligence Monday which he claimed shows Iran is "brazenly lying" about its nuclear weapons program and shows the country is not complying with the vaunted nuclear deal it signed in 2015.
The information was obtained within the past 10 days, Israeli officials told Fox News. Netanyahu said the 'half a ton" of files were moved to a "highly secret" location in Tehran after the deal was signed, and contained materials spread over 55,000 pages and 55,000 files on 183 CD's.
"These files conclusively prove that Iran is brazenly lying when it says it never had a nuclear weapons program," he said.
Netanyahu displayed what he said was "an exact copy" fo the original materials, which are now in "very safe place" and include incriminating documents, charts, presentations, blueprints, and photos.
Speaking a nationally televised address, Israel's prime minister said the material is filled with incriminating evidence showing the Iranian program, called "Project Amad," was to develop a weapon.
Netanyahu briefed President Trump about the intelligence on Saturday and Secretary of State Mike Pompeo on Sunday. European counterparts were made aware Monday prior to the speech, officials said.
Trump has repeatedly expressed a desire to exit the Iran nuke deal, which was signed during the Obama administration. And though he has yet to end it, a crucial deadline for re-certifying the deal is on the horizon.
"In a few days' time, President Trump… will make a decision on what to do with the nuclear deal," he said. "I'm sure he'll do the right thing, the right thing for the United States, the right thing for Israel, the right thing for the peace of the world."
Netanyahu's statement also came on the heels of a missile attack in northern Syria that killed nearly 26-pro-government fighters, mostly Iranians, according to a Syria war monitoring group.
Read More: Fox News