Iran
Netanyahu reveals new Iranian 'nuclear-weapon development' site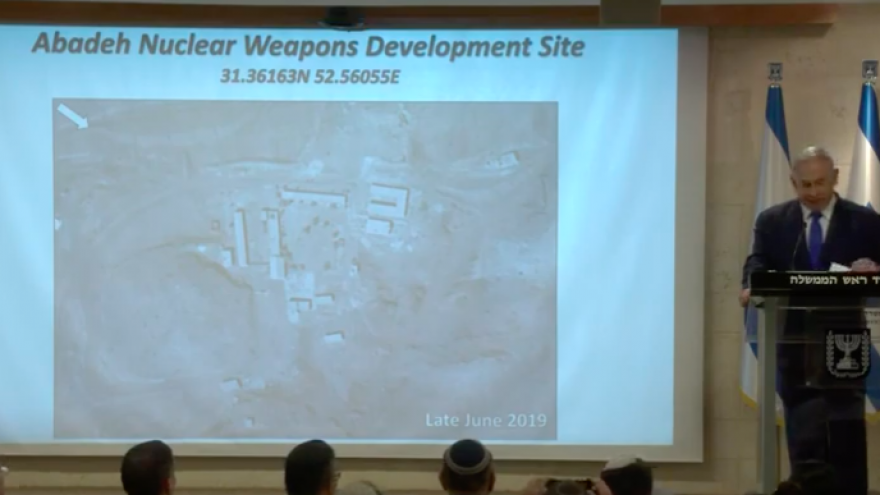 (September 9, 2019 / JNS) Israeli Prime Minister Benjamin Netanyahu revealed on Monday what he called a "nuclear-weapon development" site in the southwestern Iranian city of Abadan.
"It's incredible. Every time we reveal, they try to cover up their tracks," he said in an address to the nation about the previously unknown site, which Iran destroyed after apparently finding out that Israel discovered it.
"When Iran realized that we uncovered the site, here's what they did: they destroyed the site. They just wiped it out. They wiped out the site. Here they conducted nuclear experiments for nuclear weapons. This is the site after they understood that we were on to them. They destroyed the evidence or at least tried to destroy the evidence," he said.
The Israeli leader presented photographs of the site taken in June.
Additionally, Netanyahu confirmed a Reuters report on Sunday that the International Atomic Energy Agency found traces of uranium at a facility in Tehran that Netanyahu labeled last year as a "secret atomic warehouse."
As part of his Monday address, which he delivered in Hebrew and English, in a message for the Islamic Republic, Netanyahu said, "We know what you're doing, when you're doing it, where you're doing it, and we will continue exposing your lies and violations."
The prime minister called on the international community to enact "pressure, pressure and more pressure" on Iran.
Blue and White Party co-leader Yair Lapid called Netanyahu's address a political stunt ahead of next week's Israeli elections.
"Again Netanyahu uses intelligence information for his election propaganda," he said in a statement. "That is shocking national irresponsibility. The Iranian nuclear program cannot be used for campaign shenanigans."
The White House declined to comment on the record regarding whether the Trump administration has been briefed on what Netanyahu presented.
Read more: Jewish News Syndicate