Antisemitism
Netanyahu to Putin: Nazis taught us evil must be uprooted before it gains power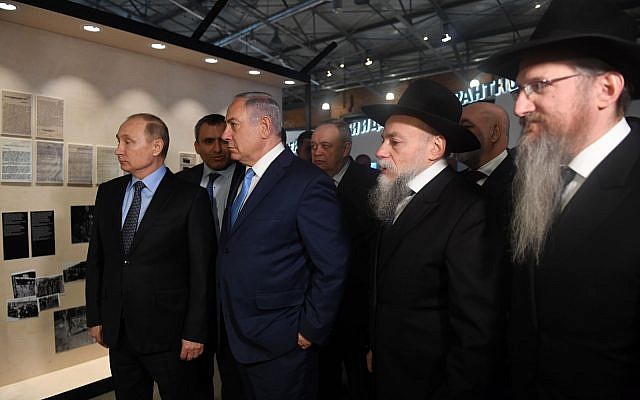 Prime Minister Benjamin Netanyahu on Monday met with Russian President Vladimir Putin in Moscow, telling him that the lesson of the Nazis was that murderous ideologies must be stopped before they can flourish — an apparent reference to the current situation with Iran.
Ahead of their meeting, which was expected to focus on Israel's concerns over the Iranian nuclear deal and attempts by Tehran to set up a military presence in Syria, the two leaders visited the Jewish Museum and Tolerance Center, where they viewed  an exhibit  dedicated to the 1943 uprising at the Nazi death camp Sobibor, in occupied Poland, that was led by Jewish inmate and Red Army officer, Alexandr Pechersky.
Visitors to the former Nazi death camp Sobibor, in eastern Poland, wander through the recently excavated remains of the gas chambers on Nov. 11, 2014. (photo credit: Lena Klaudel)
"I very much appreciate this invitation and your personal attendance in this place on this day, that reflects our common struggle against the greatest evil that humanity has known," Netanyahu said.
"We see here a very moving exhibition of documents from the Sobibor revolt, in which a Jewish officer from the Red Army, against all odds, led the successful breakout, the breakout to freedom."
"I think that main lesson learned from the rise of the Nazis and afterwards the defeat of the Nazis, is the need to powerfully stand up to murderous ideology in time," Netanyahu said at the museum. "That is our mission also today, that is what I want to talk to you about: our joint efforts to advance security and stability in our regions, and of course on the mutual cooperation between us, between Russia and Israel."
Putin responded by noting the historical tie that the Russian and Jewish people have over their suffering in World War II, during which six million Jews and some 20 million Russians were killed.
"A special thank you that you agreed to have the meeting today here, in particular," Putin said according to a Hebrew translation of his statement provided by Netanyahu's office.
"It is very symbolic, since these days the whole world is reminded of the victims of the Holocaust," he said referring to International Holocaust Remembrance Day that was marked on Saturday, the anniversary of the liberation of the Auschwitz death camp by Soviet forces.
"As you know, in our country there were many victims, in nearly every family," the Russian leader continued. "Among the Jews who were murdered by the Nazis, there were many citizens of the Soviet Union. They are the ones who made a great contribution in the defeat of the Nazis. We will use this opportunity to talk about our bilateral relations and to discuss the situation in the region."
Read More: Times of Israel