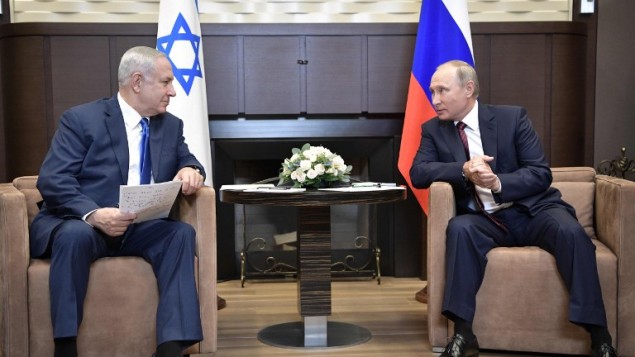 Iran
Syria
Netanyahu to Putin: Israel will act if needed against Iran in Syria
Prime Minister Benjamin Netanyahu on Wednesday said he told Russian President Vladimir Putin that Israel was willing to act to prevent a continued Iranian military presence in Syria, during a three-hour meeting between the two leaders in the Black Sea resort of Sochi.
"Most of the discussion dealt with Iran's attempt to establish a foothold in Syria in the places where ISIS was defeated and is leaving," Netanyahu said following the meeting.
"The victory over ISIS is welcome. Iran's entry is unwelcome, endangering us, and in my opinion, endangering the region and the world," Netanyahu added.
His comments echoed those of Mossad intelligence agency chief Yossi Cohen, who was also present at the Sochi meeting, who said last week that as the Islamic State group is beaten back, Iran and its proxies are rushing in to take over its territory.
Netanyahu said that he "spoke to President Putin very clearly about our positions on this matter and the fact that this is unacceptable to us."
Speaking to Israeli journalists in a conference call after the meeting, Netanyahu said he told Putin that Israel would take action if its "red lines" were crossed.
"We will act when necessary according to our red lines," Netanyahu said. "In the past, we have done this without asking permission, but we have provided an update on what our policy is."
Read More: Times of Israel