Israeli Society
Netanyahu: Israel is in contact with six 'important Arab, Islamic countries'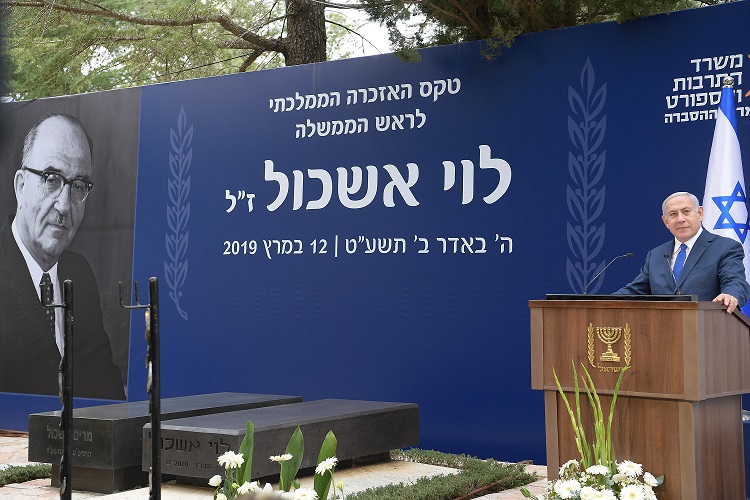 Addressing the state memorial ceremony for former Israeli Prime Minister Levi Eshkol on Tuesday, Prime Minister Benjamin Netanyahu said Israel is in contact with "half a dozen important Arab and Islamic countries."
The ceremony was held at Mount Herzl in Jerusalem, the very same site, Netanyahu pointed out, where Eshkol brought the remains of Zeev Jabotinsky.
Jabotinsky, a Zionist icon who died before the establishment of Israel, laid the ideological foundation for what would later become the Likud party, currently headed by Netanyahu.
"Eshkol faced a very great test during the siege on Israel before the Six Day War (in 1967). Eshkol did not rejoice in unnecessary wars; no responsible leader of Israel rejoices in unnecessary wars. He understood the cost of such a war but when war was forced upon us, it was clear to him that we had to push back strongly, and repel the aggression directed against us," Netanyahu said at the ceremony.
The Egyptian president at the time, Gamal Abdel Nasser, was propagating the ideology of Pan-Arabism, the idea that all Arab states should be unified under an Egyptian leadership. Prior to the Six Day War, this dream was considered attainable and Egyptian military forces were seen as undefeatable.
The prime said that the "crushing victory" in 1967 was one of the "strongest layers of the iron wall" that Israel established against the "Arab supremacy."
In a surprise attack against the Egyptian, Syrian and Jordanian armies, Israel destroyed most of their air forces, and took control of the West Bank, the Golan Heights, the Sinai desert and East Jerusalem.
The Golan and east Jerusalem were subsequently annexed but the moves were never recognized by the international community.
"Only when our neighbors are convinced that our strength and our presence here are irrefutable facts, only then some of them will be persuaded to make peace with us, and we are fully advancing this recognition and agreement process with our remaining neighbors, not with all of them, but with most of them," Netanyahu said.
Read More: I24 News