Terrorism
Netanyahu cuts short Washington trip, mobilizes military after Gaza rocket attack wounds 7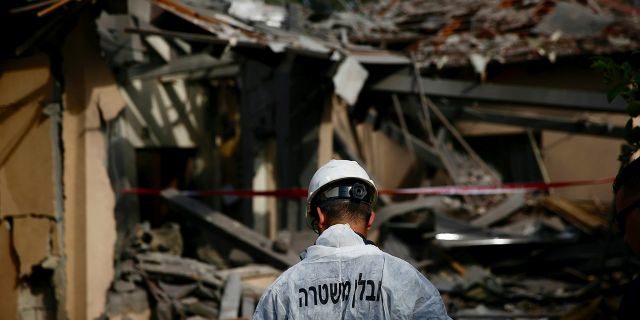 Israeli Prime Minister Benjamin Netanyahu cut short his trip to Washington, D.C. and was set to return to the Jewish state later Monday after a Gaza rocket attack struck a home in central Israel, wounding seven people.
Netanyahu, who was in the U.S. capital to meet President Trump and give a since-scuttled speech to the American Israel Public Affairs Committee conference, called the Monday morning rocket launch in the agricultural community of Mishmeret a "criminal attack" and vowed to strike back hard.
"There has been a criminal attack on the State of Israel and we will respond forcefully," he said. "In a few hours, I will meet with President Trump. I will return to Israel immediately afterward."
In addition to the canceled AIPAC address, Netanyahu also scrapped meetings with congressional leaders.
The early morning rocket, fired from the Gaza Strip, demolished a residential house, leaving it in ruins, with tiles, broken furniture and debris scattered about. A shattered baby's crib lay among the rubble and two family dogs died in the explosion.
"It's a miracle that nobody got killed," said Assi Dvilanski, a Magen David Adom paramedic who was one of the first responders at the scene.
The rescue service said it treated seven people overall, including two women who were moderately wounded. The others, including two children and an infant, had minor wounds.
The Israeli military said militants from Gaza's ruling Hamas movement fired the rocket from one of their launching pads in southern Gaza Strip, near Rafah.
Maj. Mika Lifshitz, a military spokeswoman, said it was a self-manufactured rocket with a range of 75 miles. She added two armor and infantry brigades were being mobilized to the Gaza front and a limited drafting of reserves was also taking place.
Read More: Fox News