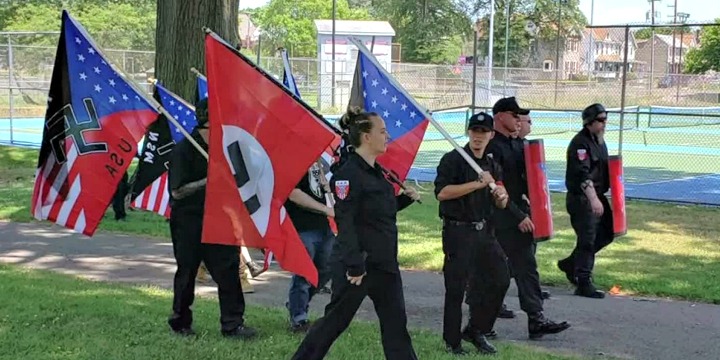 Antisemitism
Neo-Nazi Thugs Parade Through Pennsylvania City Waving Swastikas and Yelling Expletives
Screaming anti-gay, antisemitic and anti-black invective, about two dozen members of an American neo-Nazi organization marched through the streets of a central Pennsylvania city last weekend.
According to local media reports, the neo-Nazi thugs were largely unchallenged as they paraded through Williamsport.
Under the banner of an organization calling itself the "National Socialist Movement" (NSM), the marchers wore swastika armbands and carried flags bearing the Nazi symbol.
Photographs of the demonstration showed the marchers clad in ill-fitting black uniforms, in a clumsy attempt to approximate the image of the SS in Nazi Germany. Several of them wielded semi-automatic rifles as well.
At a rally in the city's Brandon Park, speakers engaged in a stream of racist, antisemitic and homophobic rhetoric.
Derek Slaughter, the African American mayor of Williamsport, was denounced with the use of the N-word by one megaphone-wielding marcher, while residents of the city were denigrated as "N… lovers" by other speakers.
One speaker urged the marchers not to ignore the LGBT+ community as a target for hate. During the Nazi Holocaust — in which six million Jews and millions of others were systematically murdered — up to 15,000 gay men were deported to concentration camps where they were "among the most abused groups," according to the United States Holocaust Memorial Museum.
"Here we are, ain't a f____ thing you're going to do about it!" the speaker ranted into a megaphone. "Let's not forget the [LGBT+ community], come on everybody!"
Read More: Algemeiner