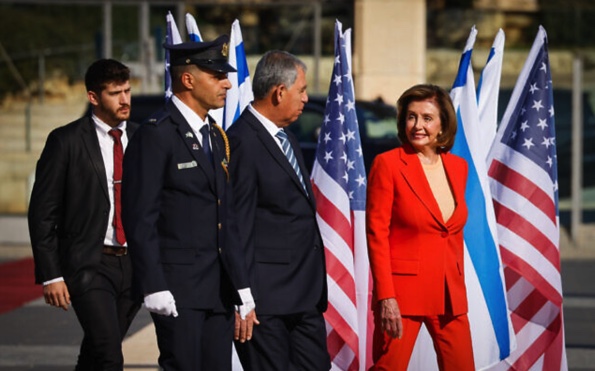 In The News
Nancy Pelosi at the Knesset: 'Israel's proximity to Iran is a threat to us all'
US House Speaker Nancy Pelosi said in a ceremony at the Knesset on Wednesday that the United States and Israel are allied in the face of the threat from Iran.
"We are together in the fight against terrorism posed by Iran, both in the region and also its nuclear development. The nuclear threat by Iran is a global one. It is a threat to the world," Pelosi said.
"Israel's proximity to Iran is a concern to all of us and a responsibility for all of us," she said.
Pelosi was greeted by Knesset Speaker Mickey Levy, who said: "The strategic alliance between Israel and the United States has proven that we know how to stand together, shoulder to shoulder, in the battle against murderous terrorism and radical Islam.
"Even at this moment, terrorist organizations from the Gaza Strip and Iranian proxies on our northern border are planning and working to attack and destroy us, and they are taking advantage of the quiet to gain strength and replenish their stockpiles of rockets," adding that "Iran is a terrorist state. It funds terrorist organizations throughout the Middle East in order to sow instability and chaos."
Read More: Times of Israel