Israeli Society
'My husband pulled our son from the window and the glass smashed a second later'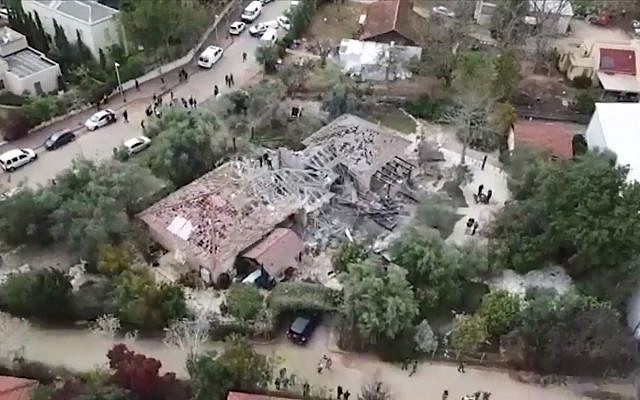 Residents of a central Israel community hit by a rocket fired from the Gaza Strip recalled Monday that they weren't sure they had heard a real air raid siren because an attack was so unexpected.
The attack triggered air raid sirens at approximately 5:20 a.m. throughout the Sharon and Emek Hefer regions north of Tel Aviv, the army said. Some residents of the region said they didn't hear the alert. There were heavy thunderstorms throughout the region at the time.
Seven people were injured, one moderately, when the rocket landed in the community of Mishmeret, destroying a five-room home and causing damage to other structures in the area.
Yoni Wolf, a son from the family whose home was destroyed, told Hebrew-language media that he was "in shock" at what had happened.
"My brother was the one in charge during the incident, he is the one who woke up everyone in the night," he said. "While my father went to get my sister from the other living area the rocket fell on the home. Some made it to the [family] bomb shelter, some didn't."
Many Israeli homes have a built-in reinforced room which is designed to provide protection against rocket and bomb attacks.
The rocket apparently landed in a corridor connecting two wings of the home, collapsing the roof and blowing out the windows. Debris covered the floor and the walls were pockmarked by shrapnel. Images from the site showed damage to other buildings and structures around it, including a hole punched into the side of a large gas tank.
Read More: Times of Israel