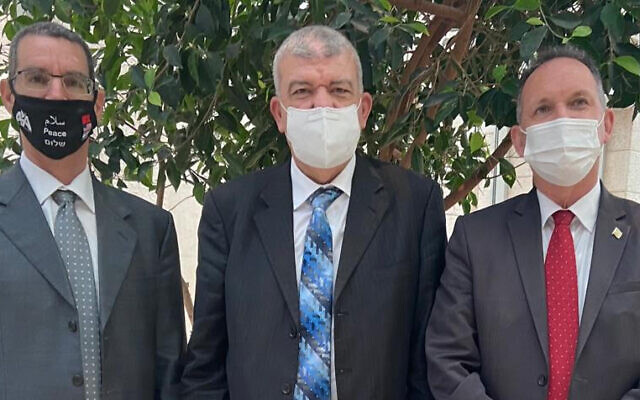 In The News
Morocco's Envoy Arrives In Israel To Reopen Liaison Office
02/09/2021
The head of Morocco's diplomatic mission to Israel landed at Ben Gurion Airport Tuesday and met with Foreign Minister Gabi Ashkenazi before commencing his work in the country, following a normalization agreement between Jerusalem and Rabat.
Abderrahim Beyyoud, head of Morocco's liasion office in Israel, told Ashkenazi that he was extremely happy when he was told of his appointment by Moroccan Foreign Minister Nasser Bourita. He pledged to advance the ties between the two countries.
Ashkenazi wished the Moroccan diplomat luck in his mission of developing bilateral ties, according to a Foreign Ministry statement.
Also Tuesday, David Govrin, head of Israel's liaison office in Rabat, met for the first time with Bourita. Govrin is likely to become Israel's ambassador to Morocco should full diplomatic ties be established.
Initially, Morocco and Israel will maintain liaison offices in one another's countries, but plan to establish full embassies in the future.
Bourita and Ashkenazi spoke by phone for the first time last Tuesday. "We agreed to work together to rapidly implement the agreements between Morocco and Israel," Ashkenazi said in a tweet. "We also discussed increasing bilateral cooperation as well as wider regional issues."
In late January, Bourita and Israeli National Security Council chairman Meir Ben-Shabbat agreed by phone to establish "joint working groups" to promote cooperation between the two countries in a variety of areas, including investments, transportation, water, the environment, energy and tourism.
Read More: Times of Israel