Israeli Society
Issues
With Mirth and a Mensch, Israel Upsets South Korea in W.B.C.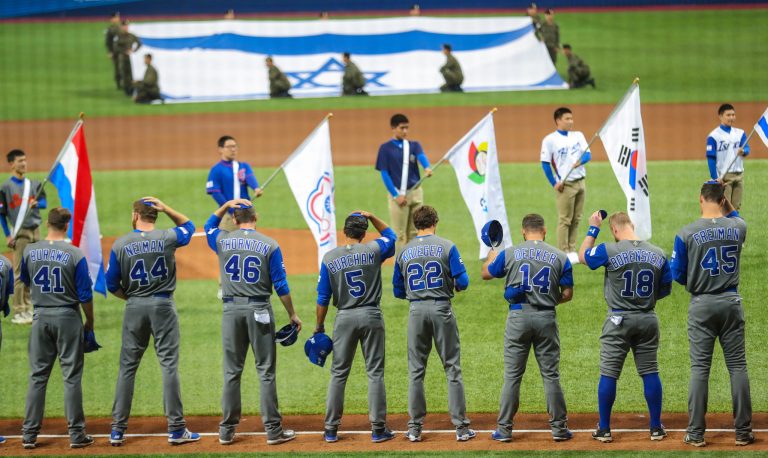 SEOUL, South Korea — When Sam Fuld, a journeyman outfielder, hit a line-drive single to open an exhibition game between Team Israel and a squad representing the South Korean Army the other day, one of his teammates on the bench, third baseman Cody Decker, yelled, "Nobody, and I mean nobody, no-hits the Jews!"
The exhortation was part bravado, part sarcasm, part siren call. Israel is one of the lowest-ranked of the 16 teams in the World Baseball Classic that began here on Monday. Unlike the United States or the defending champion Dominican Republic, the Israeli squad has only a few players with major league experience. After failing to make the last tournament, in 2013, Israel had to win a four-team qualifier in Brooklyn in September to earn its first-ever berth in the W.B.C.
But miracle of miracles, Israel won its tournament debut on Monday by beating South Korea, 2-1, in a game filled with walks, strikeouts and a combined 23 men left on base. After scoring on a bases-loaded walk in the second inning, Israel struggled to advance runners until the top of the 10th, when shortstop Scott Burcham hit a ground ball that the South Korean second baseman, Seo Geon-chang, could not handle, allowing pinch-runner Mike Meyers to score.
That gave Josh Zeid, who pitched three innings in relief, the upset win and an emotional lift for a team tied together not only by its underdog status, but also by its heritage.
"We have a lot in common, but beyond that, we all want to be successful," said Zeid, who has pitched for eight minor league teams in nine years. "We want to see where we stand in the world."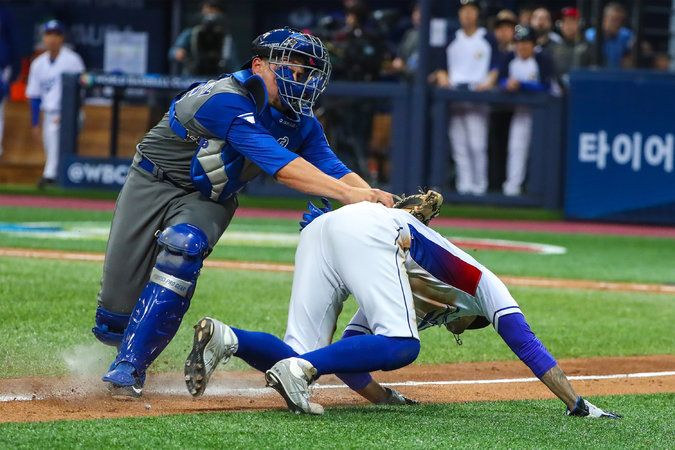 Ryan Lavarnway of Israel tagged out Jaewon Oh of South Korea to end the eighth inning, with two runners on base. CreditChang W. Lee/The New York Times 
Israel's victory was all the more improbable given its roster of minor leaguers. The hope had been that once they qualified in September, the Israelis could persuade Jewish baseball stars like Ryan Braun, Ian Kinsler, Kevin Pillar and Joc Pederson to play for their ancestral homeland. But for various reasons, including the long distance to travel here, those players are either sitting out the tournament or playing for the United States, which is in a pool with Canada, Colombia and the Dominican Republic in Miami.
"If we had been in Miami, we might have had that dream outfield," said Peter Kurz, the president of the Israel Association of Baseball, which helped assemble the team by, among other things, trying to determine who, in fact, was Jewish enough to play under W.B.C. rules. "But, you know, it's a big schlep to get here."
But what Israel lacks in baseball firepower, it makes up for in pluck and humor. And though the team would have drawn more support in South Florida, in some ways, South Korea — another nation with a history of fending off neighboring countries — is an appropriate place for Israel to make its debut in the tournament, which concludes on March 22 at Dodger Stadium in Los Angeles.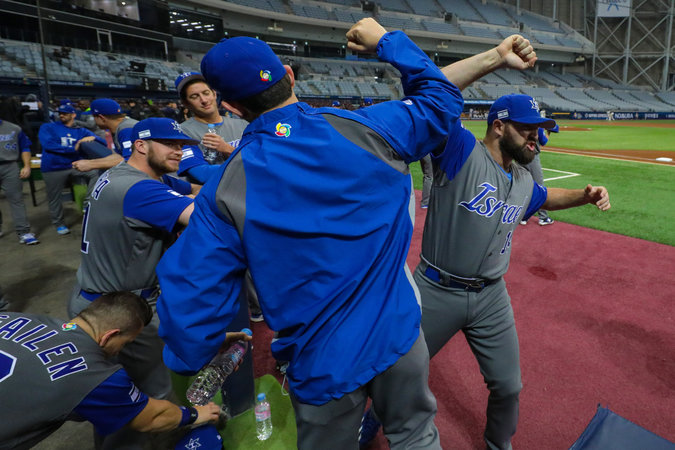 Team Israel during a practice game against the South Korean Army team at Gocheok Sky Dome in Seoul, South Korea. The Israelis are among the lowest-ranked squads in the World Baseball Classic's 16-team field. CreditChang W. Lee/The New York Times 
The team has a David-versus-Goliath feel to it. With little homegrown talent — only about 800 people in Israel are registered baseball players — the roster is filled almost entirely with American Jews, many of them free agents and minor leaguers hoping to land jobs by impressing the scouts from the United States and Asia who are following the games closely.
Read more: NY Times