Hezbollah
Military officials sent to NY to brief U.N. on Hezbollah tunnels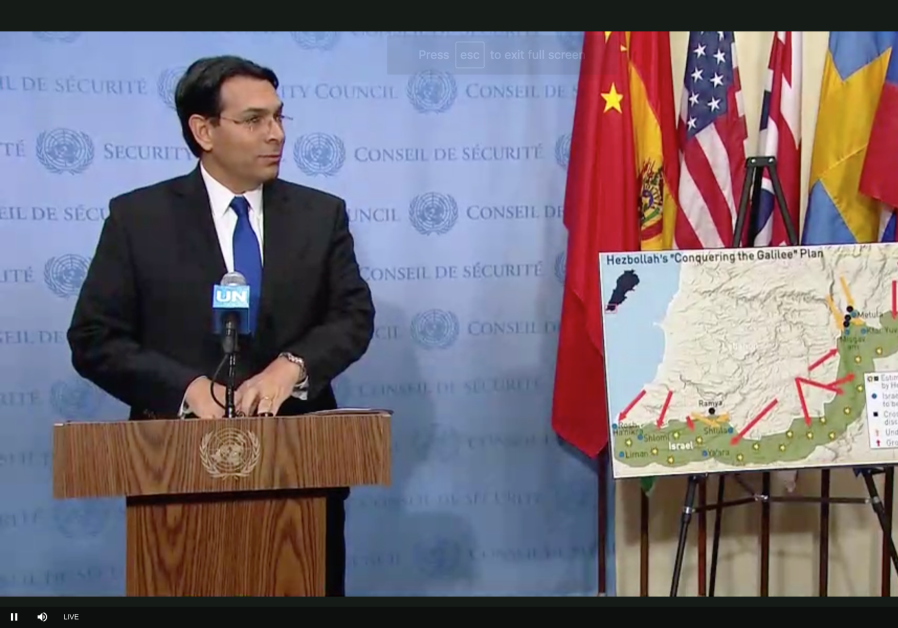 Israel sent Military Intelligence officials to New York in recent weeks to meet with senior UN officials and representatives of the UN Security Council states to present intelligence information on Hezbollah's tunnel network to keep the issue on the diplomatic agenda, Ambassador to the UN Danny Danon said on Monday.
Danon said the IDF officials were sent following a special Security Council discussion in late December on the tunnels, during which certain member states asked to see more information.
Though Prime Minister Benjamin Netanyahu said while standing near the border with Lebanon on December 25 that the military campaign against the tunnelswas nearing completion – Israel discovered and destroyed six attack tunnels – Danon stressed that the diplomatic campaign is continuing.
Jerusalem views this campaign as a protracted one likely to come to a peak in August, when the UN Security Council will be called upon to renew the mandate of UNIFIL, the United Nations Interim Force in Lebanon.
Israel is preparing the groundwork for that discussion by – first and foremost – making sure that Danon, and ambassadors of other friendly UN Security Council states, address the issue of the Hezbollah tunnels during the monthly open debate on the Mideast.
January's debate is scheduled for Tuesday, but it is likely that this month the tunnels will be overshadowed by the recent developments in Syria, including that attacks attributed to Israel in Syria, and the Iranian rocket fire at Mount Hermon.
Nevertheless, part of Israel's campaign is to ensure that this issue comes up in these discussions which – in the past – have been dominated by a monthly review of incidents in the West Bank and Gaza presented by UN Mideast envoy Nikolay Mladenov.
Jerusalem has set a couple goals to the ongoing diplomatic campaign against the tunnels, which is primarily being wage in the UN.
The first is that the UN begin relating more to Hezbollah, and not only – as has been the case up until now – to the Lebanese Army, the IDF and UNIFIL in the context of the Lebanon debate. From Israel's perspective, Hezbollah – and its responsibility for tension in the north – does not appear enough in UN discussions and statements on Lebanon.
Read More: Jerusalem Post