Hamas
Mike Pence to CUFI: I Support Israel Because I Am a Christian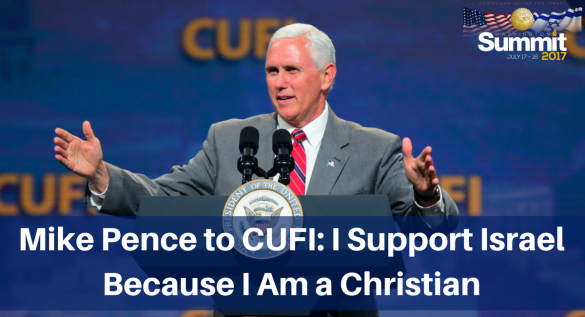 Thousands of Christians descended on the nation's capital Monday for Christians United for Israel's 12th annual summit.
Mike Pence addressed the crowd, assuring that not only he, but President Donald Trump are proud supporters of the Jewish state.
"And under President Donald Trump, if the world knows nothing else, the world will know this: America stands with Israel. Now and always," he said.
The Vice President also revealed where his love for Israel comes from: not from Capitol Hill, but from the very Word of God.
"To look at Israel is to see that the God of Abraham, Isaac, and Jacob keeps his promises," he said. "Like all of you, my passion for Israel springs from my Christian faith. The songs of the land and the people of Israel were the anthems of my youth. As for me and my house, we pray for the peace of Jerusalem and all who call her home. It's really the greatest privilege of my life to serve as Vice President to a President who cares so deeply for our most cherished ally."
It was also very clear the alliance between Israel and America's leaders was not just founded on faith, but common values like freedom and democracy.
"President Trump has made it clear: America stands shoulder-to-shoulder with Israel, as together we confront those enemies who threaten our people, our freedom, and our very way of life," he said.
Read More: CBN