Anti Semitism
Middle School Map Shows Israel Labeled As 'Palestine'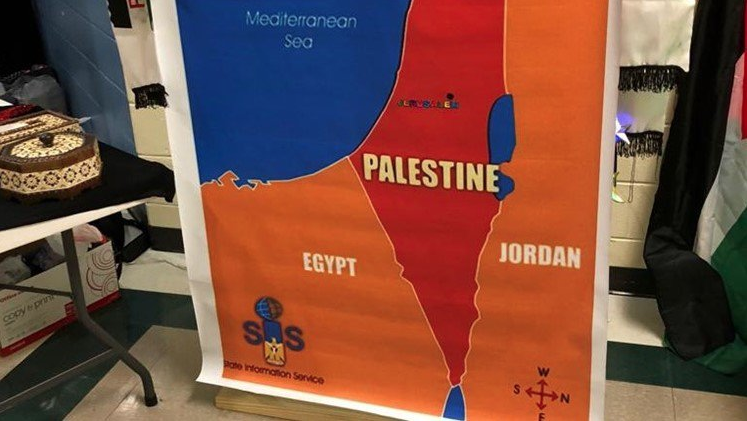 A map that was displayed at a March 7 Georgia middle school multicultural event featured all of Israel labeled as "Palestine."
The map was part of a table on Palestinian culture at Autrey Mill Middle School's Multicultural Night in Fulton County; the map was not provided with any sort of context. The Palestinian cultural table also featured a tapestry of a Handala, a Palestinian refugee child.
Several Jewish parents expressed anger to the 11Alive local news outlet.
"Israel wasn't mentioned on that map at all," one mother said. "They basically wrote Palestine in the place of Israel. They, the Palestinians, talk about from the land to the sea, which means having all the Jews wiped away and the Palestinians on the land instead of the Jews."
Another mother told 11Alive, "Nobody in the school was going over the content of the materials that is being presented."
The school's principal, J.E. Trey Martin, sent a letter to parents on March 8 stating he was "extremely disappointed and disgusted with the individuals who presented an insensitive political and geographic representation."
"This display does not represent our school culture which is one that values inclusion and unity," Martin said. "Let me be clear, we condemn this attempt to use our Multicultural Night for one's own political or religious agenda. Please know that this type of display is not acceptable nor supported by the faculty and staff of Autrey Mill Middle School. This school is here for kids, not politics."
Martin added that the school district would be investigating the matter.
Read More: Jewish Journal