Boycott, Divestment, Sanctions (BDS)
Mennonites' resolution is 'antisemitic and unwise,' legal expert says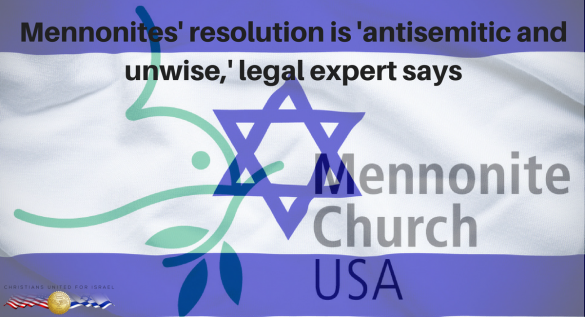 The Mennonite Church USA's decision to divest its holdings in companies profiting from Israel's presence in the West Bank is antisemitic at its core, an evangelical litigation expert said.
"The resolution of the Mennonite Church USA is confusing and contradictory," said Mat Staver, founder and chairman of Liberty Counsel and president of Christians in Defense of Israel. Liberty Counsel is an international nonprofit, litigation, education, and policy organization dedicated to advancing religious freedom.
The church's resolution, voted on last week in Orlando at the biennial national Mennonite convention, calls to speak out against antisemitism, cultivate relationships with Jewish communities in the US and to examine the role that the church played in the Holocaust. But the issue that has made the most noise is the directive to the Mennonite Church USA's $3-billion Everence church fund to ensure that it avoids giving any economic support for "Israeli policies in the occupied territories."
The Associated Press reported that the church had previously rejected a divestment proposal at the last national meeting two years ago, "amid fears that the resolution would be considered anti-Jewish."
Yet Liberty Counsel's Staver said that the Mennonite Church missed the mark.
"On the one hand, it purports to oppose antisemitism," he said. "But on the other hand, it supports antisemitic divestment in what it erroneously calls 'occupied territories.' Israel is the only free and democratic country in the Middle East. Israel has more legitimate and historical right to its land than any country in the world. Israel is thousands of years old. Jews have lived in the land for millennia."
Further, Staver said that the founder and leaders of the BDS movement, and of the churches that follow in its footsteps, are clear in their intent – they want to destroy Israel.
"The divestment resolution is both antisemitic and unwise. Israel is a leader in economy and a world leader in technology, business, agriculture and more," he said. "Divesting in Israel will only harm those who divest."
Read More: J Post