Boycott, Divestment, Sanctions (BDS)
Members of Christians United for Israel Head to Austin in Support of Anti-BDS Legislation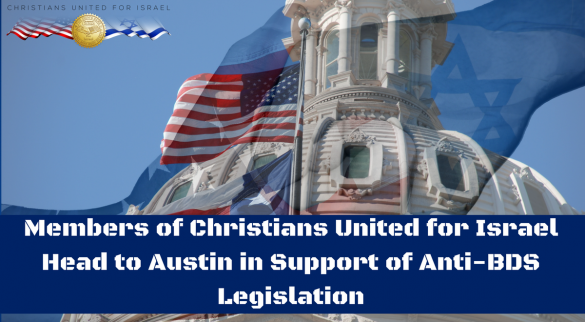 SAN ANTONIO, Feb. 8, 2017 /PRNewswire-USNewswire/ — On Thursday, members of Christians United for Israel (CUFI), the nation's largest pro-Israel organization, will join with Texas state legislators Sen. Brandon Creighton (R-4) and Rep. Phil King (R-61) to lobby elected officials in support of legislation that prohibits state entities from investing in or engaging with companies that Boycott, Divest from, or Sanction (BDS) Israel.
The anti-BDS bills, HB 89 and SB 134, enjoy bipartisan support in the legislature and have the backing of Gov. Greg Abbott and Lt. Gov. Dan Patrick.
The Citizens Advocacy Day will kick off at 9:00 AM at the Old Supreme Court, Room 3N3 in the State Capitol. Following remarks from local leaders, pro-Israel Texans from around the state will fan out across the Capitol to lobby in support of the bills.
In addition, while in Austin, CUFI staffers will hand deliver letters authored by the group's San Antonio based founder and Chairman, Pastor John Hagee, to every member of the legislature.
The letters state in part, "Israel is among our closest allies in the world. The Jewish state shares our values, and its soldiers fight bravely to keep at bay the same radical Islamic terrorists that have perpetrated attacks in the US, Europe and elsewhere around the world."
In the letters, Hagee also notes the close economic relationship his home state enjoys with Israel, "…in 2015 alone, Texan exports to Israel totaled just under a half billion dollars. Standing with Israel is both the right thing to do and in our own self-interest."
The Texas legislation is just the latest in a string of state-level anti-BDs bills that have received strong support from CUFI. The group is also actively working to advance legislation in Montana, Nevada and Wyoming among several others.
With more than 3.3 million members, Christians United for Israel is the largest pro-Israel organization in the United States and one of the leading Christian grassroots movements in the world. CUFI spans all fifty states and reaches millions with its message. Each year CUFI holds hundreds of pro-Israel events in cities around the country. And each July, thousands of pro-Israel Christians gather in Washington, D.C. to participate in the CUFI Washington Summit and make their voices heard in support of Israel and the Jewish people.
To view the original version on PR Newswire, visit:http://www.prnewswire.com/news-releases/members-of-christians-united-for-israel-head-to-austin-in-support-of-anti-bds-legislation-300404309.html