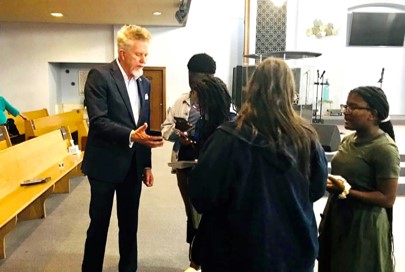 Event Recaps
May 26 – Why Israel – Hartford, CT
Thursday night I completed a week long the tour throughout CT at The Pentecostals of Greater Hartford with CUFI Alumni Pastor Jon Petoskey. At the end of the Why Israel message, it appeared every family in attendance had joined the membership of CUFI as Pastor Jon exhorted them to do so from the pulpit. He also encouraged them to attend the July Summit and announced that he had room in his car to take care of travel for any who would like to go with him.
Two college students immediately came up to me and I helped them prepare to apply for the Summit and the Bonhoeffer Fellowship.
One of the associate pastors of the church is the ESPN Crewing Coordinator who also assists in overseeing their diversity outreach programs and had just put together their program for May's Jewish American Heritage Month. I have sent his information on to IC as he has never been to Israel, and they can determine if he might not be a great addition to one of their upcoming trips.