Hamas
Man seriously hurt in Jerusalem knife attack released from hospital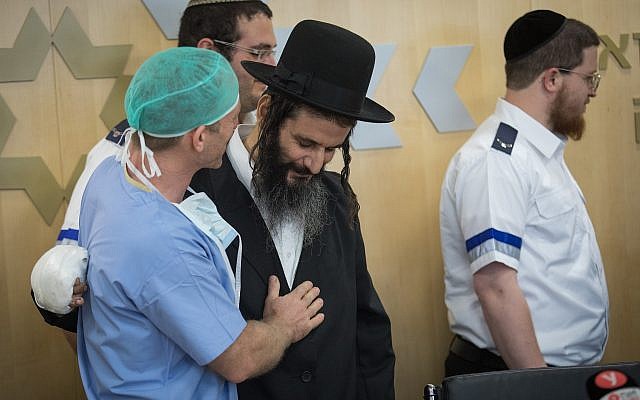 An Israeli man who sustained life-threatening stab wounds in a terror attack in Jerusalem's Old City last month was released from a Jerusalem hospital on Wednesday, vowing to reporters, "We will not be afraid."
Gavriel Lavi, 47, said he struggled to remember the details of the stabbing attack at Damascus Gate in the capital on May 31, but believed he had been saved from death by prayers and charity given by fellow students at his yeshiva, or Jewish religious seminary.
The attack inside Damascus Gate on the morning of May 31 left Lavi critically hurt with stab wounds to the neck and head, and another person, 16-year-old Yisrael Meir Nachumberg, moderately hurt with a stab wound in the back.
The suspected terrorist, a 19-year-old Palestinian from the West Bank, was shot dead by police officers at the scene as he chased yet another victim.
"I knew I was hovering between life and death," Lavi said at a press gathering at Shaare Zedek hospital shortly before his release. "Thanks to the charity given by my yeshiva friends, the whole situation changed for the better."
He promised that "we continue to walk through Damascus Gate, and we will not be afraid."
Read More: Times of Israel