Antisemitism
Man sentenced to three years in prison for vandalism at Indiana synagogue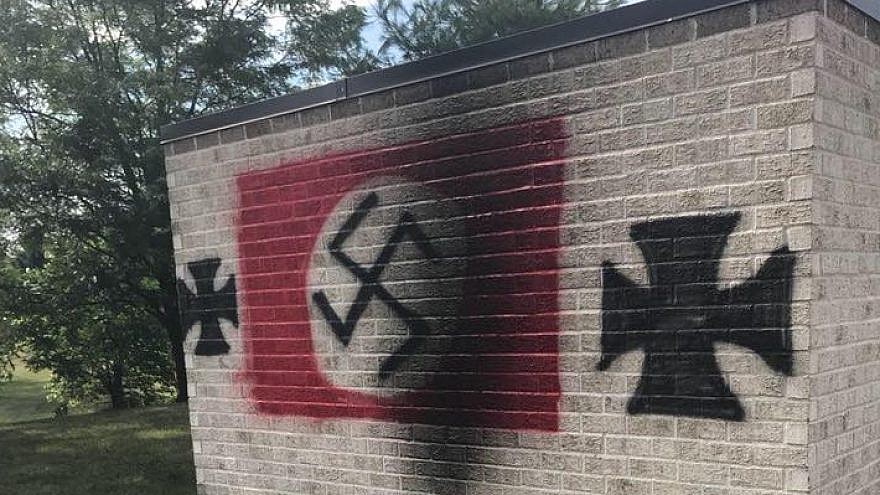 (May 22, 2019 / JNS) A 21-year-old man was sentenced on Monday to three years in prison for vandalizing a synagogue last year in Carmel, Ind.
Nolan Brewer pleaded guilty to the federal hate crime for spray-painting a large Nazi flag and Nazi iron crosses outside Congregation Shaarey Tefilla in July 2018. The vandalism, which Brewer's wife helped him with, was discovered on Saturday morning.
Shabbat services at the conservative synagogue went on as planned.
Brewer was also ordered to repay $700 to the synagogue for the damage.
The incident sparked condemnation from public officials, including U.S. Vice President Mike Pence, who previously served as the state's governor.
"Sickened and appalled by the cowardly act of vandalism at Congregation Shaarey Tefilla; a beautiful synagogue in Carmel, Indiana, where I have many good friends," he posted on Twitter. "Those responsible must be held accountable. These vile acts of anti-Semitism must end."
"The vandalism at Congregation Shaarey Tefilla goes well beyond a petty crime. It was a hateful act of anti-Semitism that goes against everything America stands for," said Republican Sen. Todd Young.
Then-Democratic Sen. Joe Donnelly said that "there is no place for anti-Semitism, bigotry or hatred in our communities, state and country."
Read More: Jewish News Syndicate