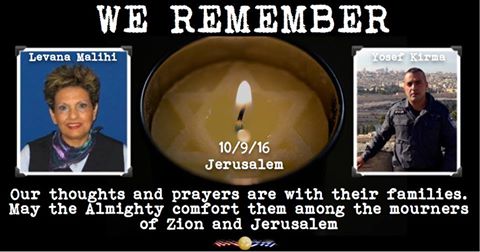 Hamas
Tragic Jerusalem Shooting Fueled by Palestinian Incitement
Yesterday a terrorist once again shattered and destroyed lives in Israel. A Palestinian man opened fire on Israeli civilians and police officers with a machine gun as they waited for the train in Jerusalem. Two Israelis were killed — Levana Malihi, a beloved 60-year-old grandmother and retired civil servant, and 1st Sgt. Yosef Kirma, a 29-year-old newlywed and elite police officer who tried to stop the shooter. Five other Israeli civilians were wounded in the attack. Our prayers are with the families of all the victims.
The terrorist, identified as a 39-year-old man from East Jerusalem, was a known violent criminal linked to Hamas with a record of jail time. He had been recently indicted for 15 counts of incitement to violence and seven counts of supporting terror organizations with Facebook posts. In fact, that very morning he was due to report to prison to serve a four-month sentence for previously assaulting a police officer. In the days leading up to the attack, his social media accounts called for rising up against Israel to protect the Al-Aqsa Mosque on the Temple Mount.
Israeli officials investigating the attack point to an increase in Palestinian incitement on social media as a strong motivator for this and other recent attacks. In the past week, Facebook allowed several pro-Hamas pages to be reinstated and active on their site. Over the last year, 42 innocent people have been murdered and over 550 injured in attacks inspired by Palestinian incitement to violence promoted and condoned by the Palestinian Authority's leadership. Following this deadly attack, the supposedly moderate Fatah party and Hamas praised the terrorist as a heroic martyr.
This outrageous pattern of the Palestinian government leaders officially promoting, praising, and even financially rewarding terrorism with exorbitant pensions and salaries paid for with American tax dollars must come to an end. It is not only a crime against the Jewish people. It is a crime against the Palestinian people to lead them away from peace and towards death. We hope and pray that the Palestinian Authority government will choose to end their incitement and tolerance for terrorism, and instead choose to give their people hope and a future. Until then, we stand with everyone – Israeli and Palestinian – who desires peace.