Israeli Technology
Lifesaving solution for MDA wins 'Great Minds' hackathon at Jerusalem tech college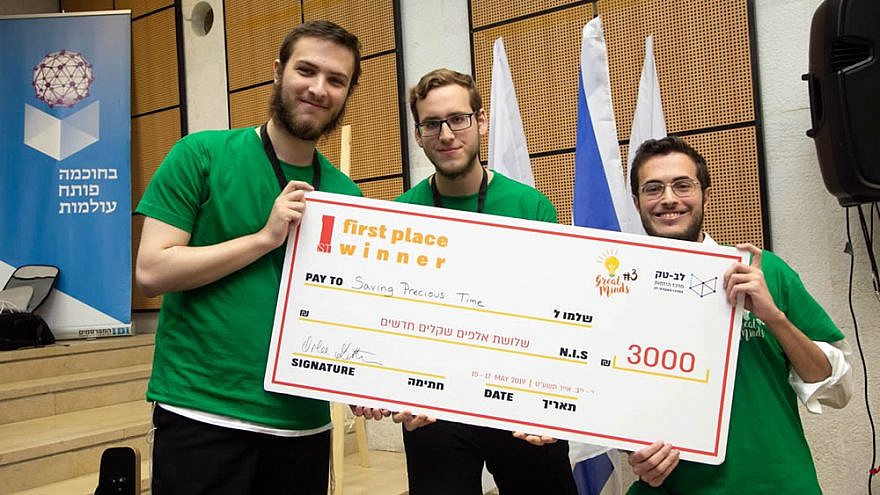 (May 20, 2019 / JNS) More than 80 Jerusalem College of Technology students from Israel and 23 countries gathered at the college's Machon Lev campus and worked around the clock last Wednesday evening through Friday morning as part of the its third-annual "Great Minds" men's hackathon.
The winning team, consisting of Brazilians Daniel Vofchuk, David Zimberknopf and Daniel Grunberger, won a 3,000 shekel prize (nearly $850) for their lifesaving solution to a challenge presented by Magen David Adom, designed to eliminate human error when checking crucial inventory on ambulances before they are sent out.
"In addition to a student at JCT, I am also an EMT volunteer for Magen David Adom, so this challenge really spoke to me personally and I knew the problem firsthand," said Vofchuk. "I was able to put my high-level studies of engineering at JCT into practice, together with my knowledge as an EMT, to hopefully save lives and help more people."
Having to use a paper checklist of more than 100 items, everyday MDA personnel must check inside the ambulance manually, allowing important devices and medications to get left behind when the ambulances dispatch.
Read More: Jewish News Syndicate