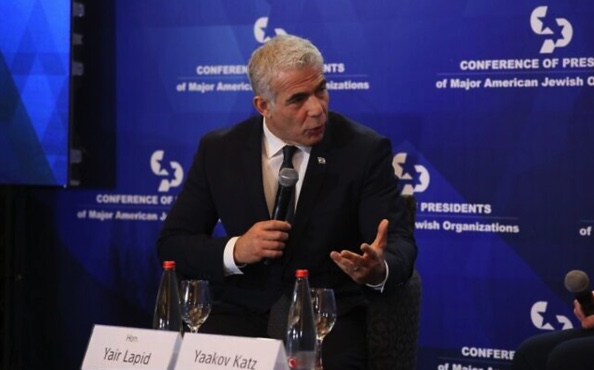 In The News
Lapid calls on White House not to delist Iran's Guards as terror group
Foreign Minister Yair Lapid indicated on Monday that the Biden administration may be open to delisting the Iranian Revolutionary Guards Corps as a terrorist organization, and called on international actors to convince the White House to reject this Iranian demand.
"Everyone in his right mind should talk to the administration about this and tell them, 'This is just wrong, don't do that,'" said Israel's top diplomat, speaking in Jerusalem at the Conference of Presidents of Major American Jewish Organizations.
In front of the same forum the night before, Prime Minister Naftali Bennett also warned that Tehran was demanding the IRGC be delisted.
"They are now asking to let the biggest terror organization on earth off the hook," Bennett said.
In July, Iran's Foreign Ministry said in a report to parliament that the US would delist the IRGC and remove sanctions on senior Iranian officials if a nuclear deal were reached in Vienna.
Read More: Times of Israel