Boycott, Divestment, Sanctions (BDS)
LA synagogue vandalized with 'Free Palestine' graffiti on 9/11 anniversary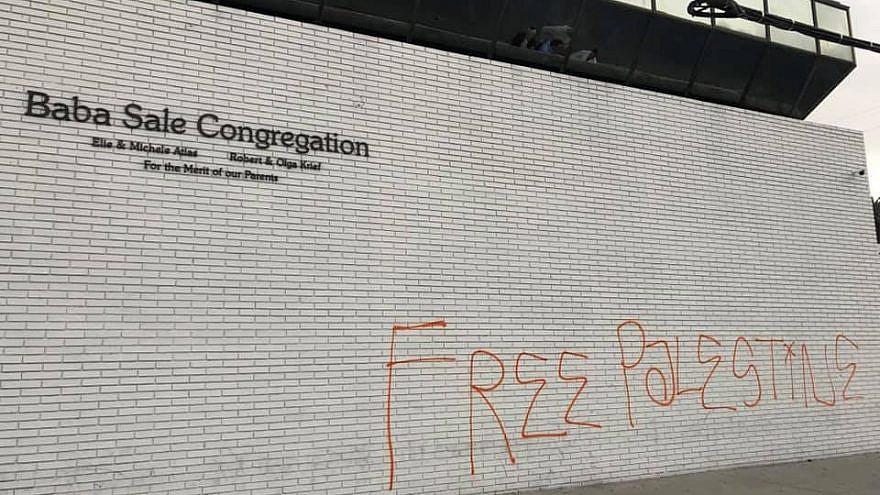 (September 12, 2019 / JNS) A synagogue in the Fairfax District of Los Angeles was spray-painted with anti-Semitic graffiti on early Wednesday, which marked the 18th anniversary of the Sept. 11, 2001 terror attacks.
Rabbi Yonah Bookstein of the Babe Sale Congregation posted on Twitter an image of the graffiti, which read "FREE PALESTINE." He wrote that the vandalism was done around 5:20 a.m. and added, "It seems that the perpetrators waited for congregants to enter and then sprayed the graffiti, so that when they come out they should see it."
The graffiti on the Moroccan synagogue was painted over by midday on Wednesday.
Zev Opos, who sits on the board of directors for the congregation, told the Jewish Journal that three female witnesses saw three men in hoodies drawing on the synagogue. A witness described one of the suspects as "a tall African-American man," according to Opos.
"Once they finished tagging and saw the women, they ran to their car, which was waiting for them on Oakwood [Avenue], and they drove away," said Opos. Video footage confirmed a hooded man spray-painting the synagogue before driving off in a vehicle.
Opos said there have been "small graffiti incidents in the past" at Baba Sale, but never anything large like Wednesday's incident. He noted that the congregation will take additional security measures following the vandalism.
Opos wrote in a Facebook post after the defacement that he wanted to "send a clear message that we are not afraid, we will not be intimidated, and we have no fear."
Read more: Jewish News Syndicate