Hamas
Joined by Netanyahu, Brazilian president makes trailblazing trip to Western Wall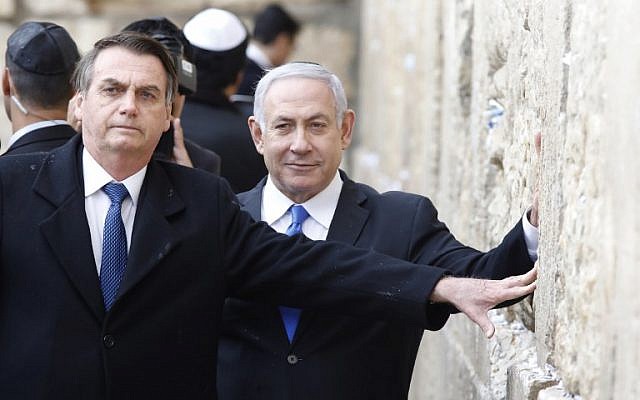 Brazilian President Jair Bolsonaro was joined by Prime Minister Benjamin Netanyahu at the Western Wall on Monday, becoming the first foreign head of state to visit the site together with a senior Israeli official.
His unprecedented step could be seen as a tacit recognition of Israeli sovereignty over that location in Jerusalem's Old City, which the international community generally considers occupied Palestinian territory. The Western Wall, part of the retaining walls of the Second Temple, is the holiest place where Jews can pray.
After Western Wall Rabbi Shmuel Rabinovitch read a chapter from the Book of Psalms, Netanyahu and Bolsonaro approached the wall, braving the rainy Jerusalem weather. After the Brazilian president placed a note in one of the cracks, the two leaders leaned against the ancient stones for several seconds in quiet contemplation.
After the short ceremony, they were set to tour the Western Wall tunnels, which are located underneath the Old City's Muslim Quarter. At a visitors center, the two men were expected to view a virtual reality recreation of the Jewish temple that once stood on the Temple Mount.
During his election campaign, and even in the weeks that followed his victory, Bolsonaro promised to follow US President Donald Trump's lead in transferring his country's embassy to Jerusalem. But before he arrived in Israel on Sunday morning, he appeared to backtrack, indicating that he would open a trade mission in the city instead.
Read More: Times of Israel