Hamas
Jewish, pro-Israel community react to national security pick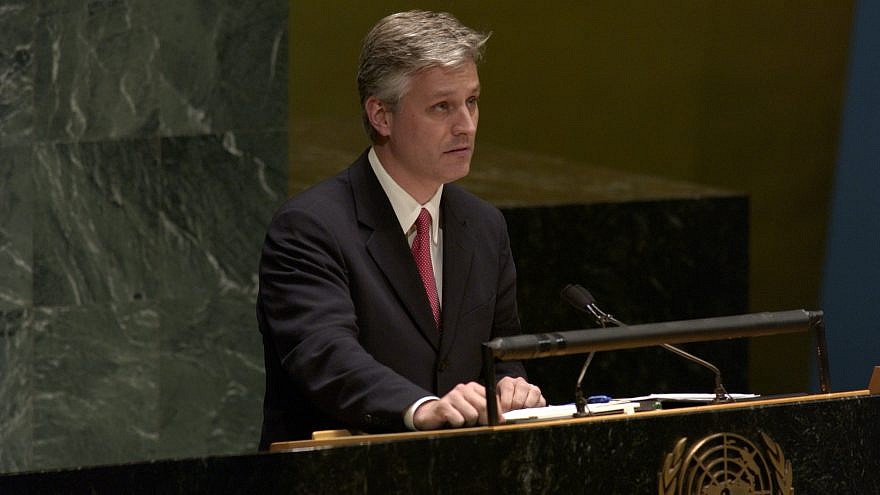 (September 18, 2019 / JNS) The Jewish and pro-Israel community immediately reacted to the selection of Robert O'Brien as U.S. President Donald Trump's fourth national security advisor, replacing John Bolton, who was ousted on Sept. 10.
"We congratulate Mr. O'Brien on his appointment, and we look forward to working with him to further strengthen the U.S.-Israel relationship," American Israel Public Affairs Committee spokesperson Marshall Wittmann told JNS.
"O'Brien is a solid pick, with a good reputation within the State Department bureaucracy as a result his previous role as the administration's point man on hostage affairs," Ilan Berman, senior vice president of the American Foreign Policy Council, told JNS. "In that capacity, he is intimately familiar with most of the hot-button issues—Iran, North Korea, the 'War on Terror'—that are on the front burner in Washington at the moment."
The appointment, which doesn't require Senate confirmation, came as America weighs how to respond to Iran striking two Saudi Aramco oil facilities on Sept. 14.
"He also inherits a national security bureaucracy that has increasingly begun to 'think big' about strategy in places like the Middle East and Africa, and will be able to harness this team to great effect, if he chooses to do so," said Berman.
Other looming geopolitical threats that O'Brien, who previously served as the Special Presidential Envoy for Hostage Affairs, will face in his new role are Russia and China.
Sandra Parker, the chairperson of CUFI Action Fund, the political advocacy arm of Christians United for Israel, told JNS: "CUFI enjoys a close working relationship with many officials throughout the Trump Administration, and we look forward to working with Ambassador O'Brien on strengthening the US-Israel relationship, confronting the Iranian menace, and curtailing the threat posed by terrorist organizations such as Hamas and Hezbollah."
"Mr. O'Brien is a great friend of Israel, and is now the top-ranking Mormon in the pro-Israel Trump administration," Zionist Organization of America national president Mort Klein told JNS. "He is also best friends with ardent Zionist U.S. Ambassador to Germany [Richard] Grenell … And you can't be a great friend of evangelical Christian Grenell unless you support Israel."
O'Brien served under President George W. Bush as a U.S. alternate delegate to the United Nations in 2005, in which he emphasized America's commitment towards solving the Israeli-Palestinian conflict. Bolton was then the U.S. ambassador to the world body.
"Endorsing resolutions that condemn Israeli actions, but that fail to address Palestinian actions or inactions, have real consequences," he said then to the world body.
"The appointment of Robert O'Brien, a skilled negotiator and non-ideological foreign policy professional, to succeed John Bolton as National Security Advisor marks a significant turning point in the White House's national security strategy to confront and prevail against robust adversaries, especially China and Iran, in an increasingly complex and dangerous international landscape," Washington-based geopolitical strategist and diplomacy consultant John Sitilides told JNS.
Middle East Forum president Daniel Pipes expressed cautious optimism over Wednesday's appointment.
"As expressed in his book While America Slept, Robert O'Brien has reassuringly conventional conservative views on U.S. foreign policy," he said. "But I worry when, as Special Presidential Envoy for Hostage Affairs, he writes that 'we implore their captors to release the hostages as an act of humanity.' Let's hope he acquires a more robust outlook in his new role."
Read more: Jewish News Syndicate