US-Israel Relationship
Jerusalem mayor, President Trump's peace envoy meet in White House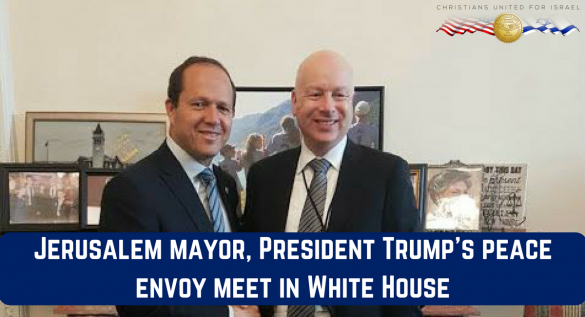 Jerusalem Mayor Nir Barkat met with US President Donald Trump's peace envoy Jason Greenblatt on Friday at the White House.
According to a laconic statement issued by the Jerusalem Municipality, the two discussed "issues relating to Jerusalem."
"Greenblatt is a true lover of Jerusalem," Barkat said in the statement following the meeting.
The meeting came as Israeli and American officials are striving – as yet unsuccessfully – to hammer out understandings over Israeli construction in West Bank settlements and East Jerusalem.
Last week, Greenblatt was reported to have set out terms under which the US would not oppose the construction of new homes in Jewish neighborhoods over the pre-1967 lines in East Jerusalem, and would accept an agreed number of new homes each year inside the major settlement blocs, while no new homes would be built in isolated settlements.
An official in the Prime Minister's Office on Thursday denied that any such terms had been advanced by Greenblatt.
Greenblatt visited Israel and the West Bank last week for meetings with Israeli and Palestinian leaders, including Prime Minister Benjamin Netanyahu and Palestinian Authority President Mahmoud Abbas.
Greenblatt's visit to the region marked the Trump administration's first major dive into the decades-old Israeli-Palestinian conflict, which the new US president has said he would like to resolve.
Read more: Times of Israel