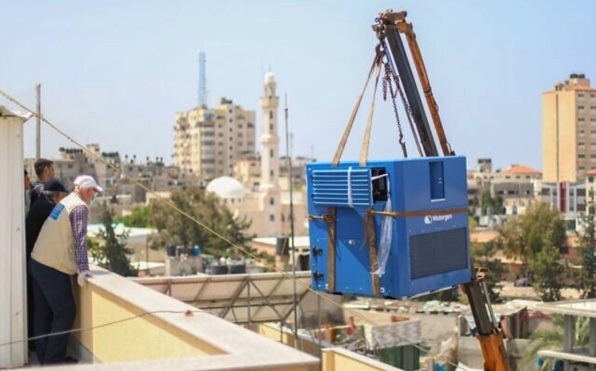 In The News
Israel's Watergen provides 'water-from-air' units to medical facility in Syria
Israeli water-from-air tech company Watergen has installed one of its water generators at a medical facility in the Syrian province of Raqqa, the former headquarters of terror organization IS, and is set to deliver nine more by the end of 2022, the company told The Times of Israel Tuesday.
The provision of the units is arranged through the Multifaith Alliance for Syrian Refugees (MFA), an American organization that works to deliver aid to millions of Syrians displaced by the civil war, through faith-based and secular partners.
A 2021 report by the International Committee of the Red Cross (ICRC) noted that after more than a decade of conflict and devastation, only 50 percent of water and sanitation systems function properly across Syria. ICRC said that water scarcity in Syria's northeast, including Raqqa where IS set up its de facto capital for its self-proclaimed caliphate, was especially grave. The group inflicted its brutal rule on the area between 2014 and 2017.
Today, water and electricity remain limited in the region, which is rife with poverty and few job prospects.
Read More: Times of Israel