Israel Defense Force (IDF)
Israel's Home Front Command revolutionizes ability to respond to multiple national emergencies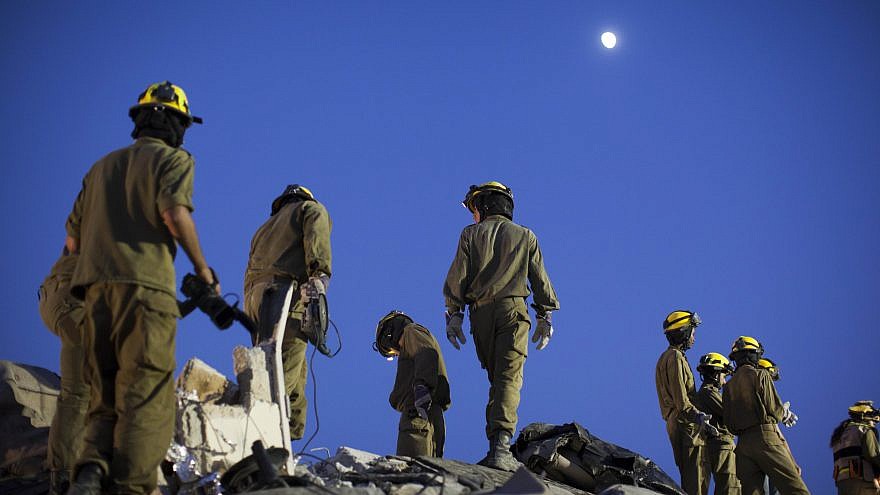 (August 14, 2019 / JNS) Personnel from Israel's Home Front Command walked on the stage in San Diego on July 10 and collected an award for something extraordinary. The personnel had turned the Esri Geographic Information System (GIS) software, which is used around the world, into a national command and control system, making Israel the first country to do so.
The large hall where the awards ceremony took place was a far cry from the modest offices at the Home Front Command's national headquarters near Ramla in central Israel, where Home Front Command officials have, far from the limelight, fully revolutionized the way Israel can deal with missile attacks on its cities and other types of emergencies.
Capt. Nir Eldan is head of a program called Shual, which is the Hebrew acronym for Home Front National Command and Control. Together with Shual Program Specialist Nir Oren, an Israel Defense Forces' civilian employee, and their team, the personnel have created a system that generates a situational picture of the entire country—linking together first responders, the government, the Home Front Command's rescue teams and local authorities.
This real-time picture allows decision-makers to immediately see which parts of the country are in most urgent need of assistance and displays more than 250 layers of data. It allows local council heads to focus their time on responding to emergencies, rather than trying to keep up with figuring out what's going on.
"This is a program that began over the past two years, and we have injected advanced technologies into it. We took it to the national level," said Oren, the program specialist.
Shual has already been used to save lives abroad. Home Front Command crews that traveled overseas to take part in international rescue missions used it to help coordinate activities all over the world—from Japan, Nepal, Mexico, Brazil and closer to home in Cyprus.
"We are developing together with it," stated Eldan.
'We have to start talking about what to do'
In 2017, the Home Front Command came to the conclusion that it was time for change.
By this point, the Israeli Air Force, Navy and Ground Forces all created integrated command networks and knew how to coordinate their forces, sharing real-time, critical data. The moment had come, it was decided, to bring the same capabilities to the way authorities inside Israel responded to war and other emergencies. And the timing was right; Israel's enemies are in a race to build up arsenals of projectiles and point them at Israel's soft underbelly: its civilian sphere.
The task seemed mammoth. Shual had to be to enable the Israel Police, the Israel Fire Service, Magen David Adom paramedics, military rescue battalions, local authorities and the government's ministries to interface with one another effortlessly on a single visual "data pool."
"The local authority is the most important 'block,' " said Eldan. "This is where the incident is happening."
"We needed to make a situational picture as available as possible to everyone, and link up the local authorities," he added. "To be prepared for future threats, we had to create technological change. A civilian command and control system."
These days, Israel's local authorities are literally coming online as associated departments link up to the system. This includes engineering, welfare and security departments.
"During emergencies, we understand that the workload will be heavy," said Eldan. "We have to start talking about what to do—what are the decisions—rather than trying to figure out what is happening."
Shual is designed to do just that. Instead of needing to ask where first responders and military rescue teams are, local council heads will see their exact location on the real-time map. As opposed to requesting for details on incidents, they will receive all available information as the emergency unfolds.
"Instead of the mayor asking police and firefighters what was destroyed, he will see everything automatically. He'll start issuing instructions to forces, and he'll have a map telling him where electricity, water supplies are down. Or whether cash is missing from cash machines," said Oren.
Such instructions will be transmitted through Shual.
If a rocket slams into a populated area, Shual will begin updating the relevant decision makers immediately and automatically. Instead of working out of separate command rooms, all responders will be looking at one map and feeding it with their own information as they react.
Installing advanced cyber defenses into the system has also been a central focus area.
Government ministries, for their part, will receive their version of the map with dashboards and heat maps, showing them which councils are struggling and need government-coordinated assistance. The system sits on a cloud network, enabling national coverage.
Decision-makers can view two-dimensional or three-dimensional maps of the affected areas, either in centralized control rooms or on their tablets and phones. They can also zoom in to street levels.
Oren recounted how, when a Home Front Command rescue team traveled to Brazil in January to help deal with a collapsed dam disaster, Shual was building up a visual survey of their area of operations as the team was still in the air. When they landed, they received a complete picture of the affected area, complete with dashboards of relevant data. As they worked in the field, the system used cell-phone transmissions to place locations on the map of those trapped under mud.
"Within minutes, they could connect this map to Google, Waze and satellite images from leading commercial-image companies. We distributed this with the press of a button to the other rescue teams, and they kept using it after we left," said Oren.
Back in Israel, the Home Front Command is racing to link up more local councils to the system. So far, 45 percent of them have been linked up. Other organizations, like the National Roads Company of Israel, are also due to link up.
'This system will save lives'
One of the most powerful features of Shual is its ability to transmit 250 layers of data on the affected area to decision-makers. This enables rescuers to instantly know, for example, whether their crane is high enough to reach a building hit by a missile, as their 3D map of local structures will include precise building heights.
Some data layers are updated every six months, such as the location of schools, and even the principal's cell-phone number and how many students are registered to it. "If I have an incident at a school, I want to know the figures," said Oren. "How many people are there? I want to know who to call. Is this a special-education facility? Shual will know."
Other layers of data will be dynamic, updating themselves in real-time, such as available beds in hospitals or malfunctioning warning sirens. "Heat maps show where your problems are. They will be generated automatically," said Eldan.
Dashboards will show where vital infrastructure needs immediate repair, where power supplies are down, or where food and medical services are under strain.
"The Energy Ministry can start immediately dealing with power failures; it receives its picture from the local authority, instead of looking at things from above," said Eldan.
Shual gives government ministries national objectives during emergencies, like ensuring water supplies to all local authorities in an uninterrupted manner. Every ministry will receive either missions or disruptions, and if the latter flashes on the screen, the ministry will manage the disruptions until they are resolved, thereby meeting their targets.
"Shual's situation assessment will bring together the government ministry and the field. It will highlight gaps that could be missed until now. For example, even if the power company says the north is OK, but a particular local council could have a power outage, this means a hospital might lose electricity," explained Eldan.
"What motivates us in all of this is the knowledge that this system will save lives," added Oren. "Ministries will see 250 local councils [during a war]. Some will be in red; those are struggling. Some are doing fine; they will be green. The yellow ones mean they could be struggling, but if the government acts, they turn green. All of these things have operational consequences." All locations of emergency services and military rescue teams will be visible.
The next stage, they said, is to provide insight to those tackling emergencies.
That will be generated by processing the data coming in from affected areas and be presented in the form of dashboards on the screen. New dashboards can be created done in hours—a process that once took about a year.
"These days, at 8 a.m., a commander tells us he wants a new button and dashboard, and by the next situation assessment, he gets it," said Oren. "Now, the progress is so fast that they are the ones telling us to wait—that they need time to get used to it."
Read more: Jewish News Syndicate